Dazzling your digital resume
This session was about how to create a personal website that will land you your dream job. Cassie Morien, Boca Raton Magazine writer and web editor, presented the skills she believes everyone should master in order to land the job they have always wanted.
According to Morien, the top five reasons everyone needs to create a personal website are:
1) Your resume is boring.
2) You need to be findable.
3) You can showcase all your great clips.
4) You can showcase your personality.
5) It will help you land a job.
The Internet is working against you. A personal website allows potential employers to get to know the real you. It "counteracts the Internet." You cannot be certain that when an employer goes to research you online that they will stumble upon you first and not someone else sharing your name. Creating a personal website or digital resume prevents confusion about who you are and what you stand for when future employers are investigating you online.
To begin creating your personal website, Morien suggests that you buy a URL and pick a web host. When buying a URL, use your name or even your Twitter handle if it is appropriate. Do not use numbers. Your URL needs to match your resume to allow your employer to easily find your website. Go with a .com or .net when choosing your URL. Morien recommending using Google Sites, WordPress, Pressfolios or Cuttings.me for a web host.
Your personal site should include nine things.
Headshot: Your headshot should be professional and clean. It should not be a glamour shot. You should be smiling and look like you are on your way to work.
Clips: You should use your best clips only. A personal website allows you to use more than the three standard clips included in your resume. Make sure each clip contains no errors. Break the clips up into categories if possible.
Resume: Your resume should be easy to read and view. It needs to be a PDF. Your name should be in the biggest font possible and your website should be referenced. You want employers to remember your name and visit your personal webpage.
Photographs: You want to show you are well rounded. Include your best photographs. Also include photographs with each clip.
Multimedia materials (video/radio): Showcase your additional talents and skills by including audio and video recordings. SoundCloud is a useful tool for displaying these additional skills.
Social networking platforms: Include your Twitter handle in your digital resume. You want to show employers that you have nothing to hide. Include your Facebook if it is professional. Make a second professional Facebook account if your current account is questionable.
Blog: Your blog should be thought of as a way to display your clips. Do not make it your personal diary. If you are not working, you should be blogging.
Contact information: Make it easy for employers to contact you. Make sure everything is up to date and accurate.
Biography: Write your biography in third person or have a friend write it for you. Do not give them too much personal information, such as family details. A lot of personal information can work against you. Include a few interesting and unique facts about yourself.
Morien laid out many useful tips in this session. For those interested in a career in journalism, it is vital to make a personal website. I believe writers need to have an online presence to land a job in the current market. Your dream job might pass you by if you have a negative online presence. I will be sure to take into account all of Morien's advice when constructing my own digital resume.
About the Contributor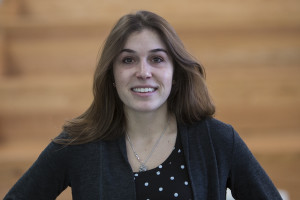 Maggie Pund, Managing/News Editor
Maggie Pund is a senior journalism major and electronic media and broadcasting minor. Previously a zoology major and aquatic ecology lab assistant, Maggie...