Mearns sworn in as NKU president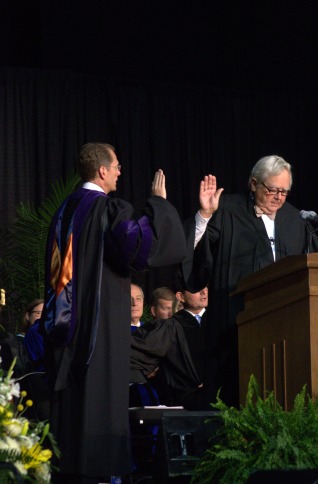 Amidst a rainy morning and a chilly arena, Northern Kentucky University made the president's welcome official Friday at the Installation of Geoffrey Mearns. The Bank of Kentucky Center hosted the ceremony, which was attended by members of the university, the community and delegates from across the country.
Joined on stage by the platform party, including the Board of Regents, his executive team, university deans, past NKU presidents James Votruba and Leon Boothe and the Lt. Governor of Kentucky Jerry Abramson, Mearns was sworn into presidency by U.S. Court of Appeals Judge Boyce Martin.
Martin, who is a mentor to Mearns and a Kentucky native, was happy to see a former employee working in the commonwealth. In his speech, Mearns turned to Martin and said, "Well, Judge, I'm here. I'm home."
Mearns' installation address was given by a comedic District Judge John Gleeson, who the president considers a good friend and mentor. During his introduction, Provost Gail Wells described the two men as "professional clones."
Both men grew up in large families, studied at University of Virginia law school and worked for the U.S. Department of Justice.
Gleeson made it a point to make some jokes about the Mearns and recounted many memories from working together in Brooklyn, N.Y. "These solemn proceedings need a little levity," he said, and continued to have Mearns doubling over in laughter on the stage behind him.
The judge talked highly of the president, telling the arena that the university is "lucky to have him."
Gleeson also credited Mearns' parents with raising such a successful leader. His father, Ted, was in attendance with three of Mearns' sisters, as well as his wife Jennifer and five children.
Mearns' mother, Pat, passed away in August, right before the academic year began.
Before closing the ceremony, Board of Regents Chair Terry Mann announced that the Mearns family is donating $100,000 to a scholarship endowment fund in his parents' honor.
As part of the ceremony, the NKU Symphonic Winds, Philharmonic Orchestra and the Chamber Choir performed a prelude concert for attendees. The musicians also provided the interlude music, processional and recessional selections.
Representatives from students organizations, members of the faculty and, college and university delegates all dressed classically in cap and gowns filled the seats of the Bank of Kentucky Center to watch the president's swearing in.
After the ceremony, attendees moved to a public reception in W. Steely Library, where they could mingle with the president, his family and the platform party.