Student senate holds biannual safety walk
Members of Northern Kentucky University's Student Government Association meandered in and out of various parts of campus, while several NKU administrators scurried amongst them, as they checked over the campus's physical features with aim to ensure a safe and convenient student experience on campus.
The scene played out after SGA's Oct. 22 meeting, when Senator John Jose, head of SGA's Committee for Campus Improvement and coordinator of this Campus Safety Walk, split senate members and accompanying administrators into three groups. Jose then led his group across the main campus, leaving the other two groups to inspect the areas around Callahan Hall and the areas around on-campus university housing.
According to Jose, this safety walk was an opportunity for senate members and NKU administrators to take a look around campus together, once in the fall and once in the winter, in order to address any issues that could potentially hinder the quality of the student experience at NKU.
Some areas of concern found during this year's campus safety walk included numerous areas of campus that are in need of more lighting for safer travel at night, an area behind the Business and Math, Education and Psychology buildings that needs improved safety crosswalk features in order to reduce the possibility of potential accidents and an area near the ground level of the Lucas Administration Building that is in need of updating and overall cleanup in order to be better utilized by students.
SGA Senator Ashley Hyden thinks that campus involvement, such as this safety walk, is a big factor in SGA's success at the university. "It allows us to find problems around campus and resolve them in order make campus a better place for students," Hyden said.
However, while there were some issues that were found during the walk that did need addressing, NKU junior integrated studies major Kamaria Batiste believes SGA may be spending too much time looking at the physical aspects of campus. "I appreciate the idea behind what they are doing," Batiste said. "I am just afraid that they could be spending their time much more efficiently by focusing on other issues."
Regardless of the commentary from some students, it was obvious that SGA felt very strongly about the importance of this event. "We [SGA] are the bridge between students and administration. An event such as this will help us bring the two groups together in order to bridge that gap," Senator Jose said in regards to using the safety walk to identify and convey possible student needs to administrative figures.
Besides investigating areas for improvement around campus, SGA was also at work this week during their regularly scheduled meeting where they passed, unanimously, their resolution recommending the implementation of town hall style meetings.
Other resolutions were also in the works by SGA and are set to be read before the senate in the group's upcoming meetings.
About the Contributor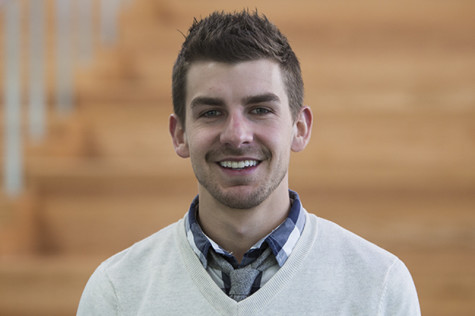 Kevin Schultz, Digital Projects Manager
Kevin Schultz is a senior with a double major in journalism and English at NKU where he has covered everything from administration and student government...