Open forums offer free speech opportunities
What started out as a single question written on a portable whiteboard three years ago has grown into a live open dialogue about current events between students, instructors and guest speakers at Northern Kentucky University.
Bringing the questions posted on the Democracy Square board to life, Democracy Square LIVE! is a program sponsored by the Scripps Howard Center for Civic Engagement for students and faculty to connect and trigger active discussions involving current topics in the news. Discussion topics this semester will center around issues involving the presidential campaign, such as centrist women, presidential leadership and campaign ad analysis.
"[Democracy Square Live] is a way to enhance whatever is being taught in the classroom and connect it with current events and public policy," said Mark Neikirk, director of the Scripps Howard Center for Civic Engagement. "One of the cool things is sometimes the students who come are from different classes taught by the same professor…The chance to interact with other students that don't normally interact in the classroom can strengthen the learning."
In this place for free speech, students openly compared "legitimate rape" to "surprise sex" and even commented on why the word vagina should not be considered a "dirty word." Students are given the freedom to voice their opinions and challenge each other to facilitate deeper debate.
"I think that it is super important that college students let their voices be heard because we have a lot of power behind us," said Kelsie Brown, a sophomore secondary education major who attended the discussion. "We are creative, intelligent, outgoing and driven, but unless we actually get involved and let our voices and votes be heard all of that intelligence and creativity will be all for not if we don't take a more active role in political decisions."
Each event offers students an outlet to engage in unrestricted speech with well-informed faculty hosts. The second discussion of the semester hosted by professors Mary Bucklin and Shauna Reilly focused on the topic of centrist women in the 2012 election. Keeping the subject of women in mind, students were asked to examine issues such as Rep. Todd Akin's legitimate rape comment and Rush Limbaugh labeling a female law student a slut.
"I think discussion is so important because we don't see other people's perspectives until someone tells us," Bucklin said. "I think listening to other people is a way of learning, and I think we, as citizens in a democracy, need to learn as much as we can."
Stemming from the Newspaper Readership Program, the goal of Democracy Square LIVE! is to develop more civically engaged students through open dialogue concerning issues raised in articles from The New York Times, USA Today and Associated Press. The Newspaper Readership Program supplies NKU with daily copies of the participating newspapers for free.
About the Contributor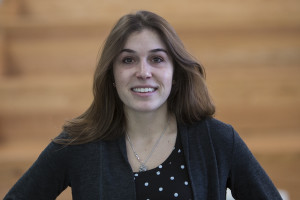 Maggie Pund, Managing/News Editor
Maggie Pund is a senior journalism major and electronic media and broadcasting minor. Previously a zoology major and aquatic ecology lab assistant, Maggie...