Ceremony planned to install new president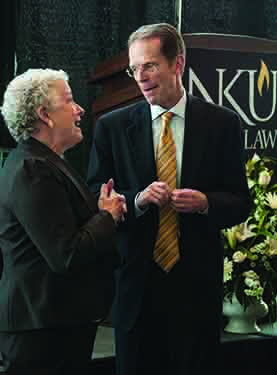 Northern Kentucky University will install Geoffrey Mearns as its fifth president during a unique inaugural ceremony set to take place Oct. 26 at The Bank of Kentucky Center. Doors to the event will open to the public at 1:15 p.m. with festivities set to kick off at 1:30 p.m.
A prelude concert to be performed by NKU's Symphonic Winds, Philharmonic Orchestra and the award winning NKU Chamber Choir will start the ceremony. The concert will include both student and faculty members and is planned to continue throughout various parts of the ceremony.
This installation is also set to include other student representatives including the presidents of various student organizations who are invited to march in the ceremony's processional.
The processional will begin at 2 p.m. with the students, professors, faculty and staff set to march into the center dressed in caps and gowns, attire usually set aside for commencement ceremonies.
According to the event's planner, Kathleen Stewart, the installation will be an exciting ceremony full of history and tradition. "We don't do this very often," Stewart said. "This is only the fifth president the university has had. So, we haven't done this is in a while and hope not to be doing this again anytime soon."
The two-hour ceremony is also set to include several speeches by notable figures such as the Kentucky Lieutenant Governor Jerry Abramson, former NKU President James Votruba and NKU President Geoffrey Mearns.
Votruba will also pass over the President's Medallion to current President Mearns during the ceremony, symbolizing the formal transition of power from the past to the present president.
The last time NKU has seen a presidential installation was with Vortuba. "15 years ago we did it all in Greaves Concert Hall and we actually had to turn people away," Stewart said. This year, according to Stewart, The Bank of Kentucky Center will leave a lot of room for everyone to attend. "I hope everyone will come see the pomp and circumstance involved," she said.
Ashley Hyden, a junior public relations major at NKU, is excited for the ceremony. "I think that it is great that students will get to be a part of the installation ceremony because it is a special way for students to leave their mark at NKU," Hyden said. "I think that students should seize the opportunity to be a part of this event."
Following the Installation Ceremony will be a public reception at W. Frank Steely Library with free refreshments, a free art exhibition featuring original works by artist Paul Sawyier and a meet and greet with the newly installed President Mearns.
The day's events will be followed by a two-mile run which will take place on Oct. 27 at 9 a.m. starting at The Bank of Kentucky Center. The run is for both runners and walkers and is open to the public. No registration is needed.
About the Contributor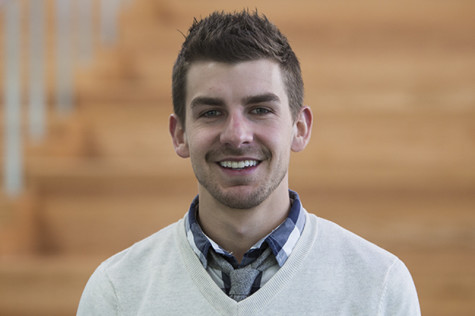 Kevin Schultz, Digital Projects Manager
Kevin Schultz is a senior with a double major in journalism and English at NKU where he has covered everything from administration and student government...