Virtual exploration inspires NKU-based forum
Have you ever pictured a world full of pieces that you can manipulate or destroy at will to create new landscapes or structures at your leisure? Two Northern Kentucky University students created an exclusive virtual space for students to congregate and create things together without the limitations of the real world.
Spencer Shefchik and James Lloyd came together last semester to organize an online server forum called NKUcraft for students to connect over the computer game Minecraft.
Minecraft is a computer exploration game created by Swedish programmer Markus Persson. Players are inserted into a blocky biosphere and given control to alter their surroundings to craft their own fictional universe and game plan.
The growing online community is made up of 140 members with various majors and backgrounds working in the game server to build things such as ships, towns and even popular cartoon characters.
"I think of Minecraft as kind of a tinker toy where you can build anything you particularly want to as long as you have the resources," said Shefchik, a media informatics major.
With no precise instructions, points, levels or mission, Minecraft is not like other games. The server themes can range from creative mode, with infinite resources and no enemies, to survival mode with limited resources and monsters. Evidenced by the over 42 million registered users from all over the world, the game appeals to a wide audience.
"One of the things that I think is most interesting about Minecraft is I've seen 8 year olds play and I have seen people in their 60s play, across all ethnicities and both genders," said Renee Human, NKU's media informatics program director and professor.
The game allows different types of students and majors to come together in this Minecraft microcosm to work on experimental projects or even conduct virtual class meetings in the future.
"I think it could cover [many majors] from the College of Informatics to the arts and sciences and across a whole bunch of colleges on campus," Human said.
In addition, some students believe Minecraft has the capability to be used as a learning tool.
"There can be, like, a learning thing involved because you can break it down to very basic programming," said Branden Middendorf, NKUcraft member and media informatics major. "I could see it being used for more [computer science] students doing very binary stuff and figuring out how certain things work."
Minecraft creates a platform for students to collaborate, learn, relax and display their creations to the world. On top of that, the game allows a way to build a portfolio.
"If you want to get into the gaming world as a game developer or a game designer, one of the things that people at those companies will tell you is that they want to see a game or a mod that you have created," said Human. "It helps build a portfolio toward what those employers want to see."
The emergence of Minecraft on the collegiate level demonstrates how electronic games are becoming more prevalent and gaining legitimacy in today's society.
About the Contributor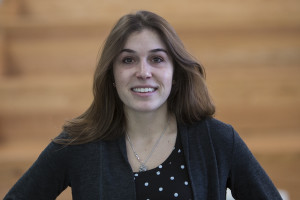 Maggie Pund, Managing/News Editor
Maggie Pund is a senior journalism major and electronic media and broadcasting minor. Previously a zoology major and aquatic ecology lab assistant, Maggie...