Five senate seats filled, two still remain
Northern Kentucky University's Student Government Association swore in five new senators at their Oct. 1 meeting.
The new senators were able to obtain their seats this late in the semester due to a decrease in SGA membership throughout the last spring and summer semesters.
After the addition of the five senators, one senate seat vacancy and one judicial council seat vacancy still remain.
The five new senators consist of junior computer science major Spenser Kern, junior political science major Matt Frentz, freshman graphic design major Amy Jabrah, freshmen vocal performance major Katherine Hahnel and senior communication studies and history major Chuck Rust, who also serves as SGA's legislative liaison.
At the meeting each new senator was asked what issues they would like to represent as part of the student body and how they planned to facilitate such leadership.
Senator Matt Frentz said he planned to represent a quiet demographic of campus through leading by example and reporting issues to SGA. "I feel like I will be a voice to the stereotypically quiet section of Northern," Frentz said. "I would like to bring issues that students would want changed, to your [SGA's] attention."
Senator Katherine Hahnel said that she would lead by standing as a voice for the needs of NKU students, specifically commuters on campus. "As a commuter, I know it's hard to get to a lot of the programs that are here [at NKU] at night," Hahnel said. "So, I'd like to get things here more during the day." Hahnel also wants to improve branding of NKU athletics in order to get more student involvement and support at athletic events.
Other senators agreed that mixtures of leading by example and leading by listening to the voices of the students around them would be the most successful means of leadership.
Other issues discussed for potential representation by the new senators included improvement of classroom resources, further development of commuter meal plans, student involvement and Greek life.
Also at the meeting, the resolution requesting the disclosure of course evaluations to students was read for a second time, passing with a unanimous vote.
SGA has continued work on other various resolutions outside of their weekly Monday meetings, and plans to present multiple of these at the Oct. 8 meeting.
About the Contributor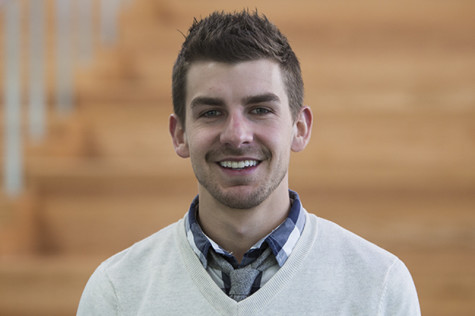 Kevin Schultz, Digital Projects Manager
Kevin Schultz is a senior with a double major in journalism and English at NKU where he has covered everything from administration and student government...