Battle for Boobies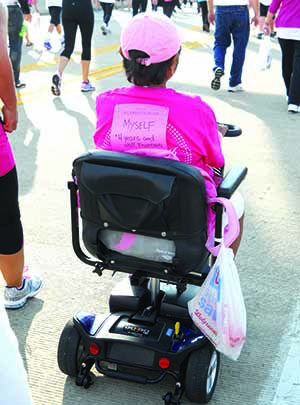 On a crisp Saturday morning a sea of pink and white filled the streets of downtown Cincinnati, Ohio and into the streets of Newport, Ky. as men and women of all ages participated in the 15th annual Susan G. Komen Race for the Cure.
According to the Komen Greater Cincinnati Race for the Cure there were 10,729 online registered participants on Sept. 29.
The 5K extended through downtown Cincinnati and began near Paul Brown Stadium, circled the rear of Great American Ball Park, went into Kentucky and ended back on the Ohio side after participants crossed the Purple People Bridge. Participants showed their enthusiasm and support by wearing pink, some outfits being more outlandish than others, but all represented one cause, the fight against breast cancer.
Groups wore shirts that read: "Save the Tatas," "Saving 2nd Base," "Team Big Rack," "CANcervive," as well as many others.
Amy Maschmeyer, a 2003 Northern Kentucky University graduate, said her's and her husband Ryan's favorite shirt read "Walking for Knockers."
Maschmeyer participates annually for a team called "Hope for Hooters" that is in place to honor her best friend Casey's mother who passed away during her battle with breast cancer. This was her fifth year doing the walk. Although Maschmeyer walks in honor of her friend's mother, she added that her Grandma Louise was a breast cancer survivor.
Maschmeyer also had the chance a few years ago to walk in the Susan G. Komen 3-Day where she walked 60 miles in three days. Her group each raised $2,200 a piece for that race.
"It was the hardest, but the best experience," Maschmeyer said. "Survivors make a tunnel at the finish line and it's very emotional."
She said the annual Race for the Cure is emotional because you know you're doing something very good. "Cancer affects someone you know," she said. "You see the woman in front of you without hair who is walking and you realize you shouldn't complain."
Maschmeyer explained the gentleman in front of her had posted on his shirt that he was walking in celebration of his wife and his sister. "That's why you get up early, as tired as we were, you walk for that person that can't get out of the hospital bed or for those who have lost someone," she said.
Danielle Pugh, a resident of Northern Kentucky, was pleased with herself for making a small sacrifice of waking up early to join a cause she feels strongly about supporting. Pugh looked behind her shoulder as she approached the rear of Great American Ball Park and realized just how large this event was — the end of the group of walkers wasn't in sight.
At about this point in the race, groups of local youth cheerleaders gave encouraging words to those who were participating in the 5K. "Let's go walkers!" the girls cheered in sync. As walkers crossed the bridge into Kentucky, some runners were already crossing the finish line.
JoEllen Thompson, a former NKU student, completed this year's race for her cousin who is currently in Stage 4 breast cancer. Thompson has participated for five years now with about 17 people part of a team they call "pink." She said they normally walk solely for the cause, but this year had a deeper meaning.
"We are good friends with the owners of Pompilio's and they let my best friend and I bartend for a night where they supplied appetizers, that was kind of their donation," said Thompson. She went on to say that through splitting the pot, a raffle and their bartending tips they raised around $1,900.
October is Breast Cancer Awareness Month. Locally there are many more events that raise awareness and money towards the cure.
For more information on Susan G. Komen events visit www.komen.org.