Renovations across campus under way
As students across Northern Kentucky University make their way back on campus to dive into the first weeks of the Fall 2012-2013 academic semester, minor changes occurring across campus may not be noticed at first glance. However, the impact that these small changes may have on students will soon be noticed in a not-so-small way.
Take for instance one of the most evident changes being made on campus, the reconstruction of parts of the first and second levels of the University Center. While these previously vacant spaces may not constitute an entire new building on campus, what are currently taped-off construction areas will soon be the sites of the new Student Success Center and One-Stop Center; both of which are changes that could be completed as soon as January or early February 2013, according to Assistant Vice President for Facilities Management Larry Blake.
The Student Success Center will serve as a localized spot where students can go for almost any question they have. The new center will include offices such as admissions, advising, financial aid, information technology, and career development. This center will be especially helpful to new students, who will in the future be given a tour of the center as part of the New Student Orientation Process, Blake said.
Other features of the area will include a 50-person classroom, a student printing area, and private counseling rooms that will serve as a place where students can speak to advisors during the day and serve as student study rooms at night.
On the other side of campus, there are also changes occurring in Landrum where the majority of the right wing of the third floor has been given to NKU's on-campus radio station WNKU. As the completion of Griffin Hall came to a close, rooms that were once used in this section of Landrum by the College of Informatics, were obtained by WNKU.
"I haven't seen this room used for a class in nearly five years now," said WNKU General Manager Chuck Miller about one of the newly obtained rooms. "This (room) is being built into a turn-key production studio," he said, "…although this is a very long process with lots of work to do."
Once finished, WNKU offices will move down one room, towards the main lobby of Landrum. This shift will enable expansions to current rooms that have been outgrown by the radio station which has also recently expanded its audience range.
Some of the changes that are set to occur within WNKU are expansion of the music libraries, expansion of office spaces, expansion and remodeling of the newsroom, a revamp of several production areas, an expansion to the master control room, and the addition of varying offices.
All of this expansion comes at a perfect time for WNKU which, according to Miller, has completed the purchase of a Middletown radio station in June of 2011, spreading its reach to over 100 counties.
Overall the expansion of WNKU facilities on NKU's campus will help the radio station provide its listeners with a high quality experience; whether it is effecting listeners as far away as West Virginia, or as local as Griffin Hall's Digitorium, which is home to the station's Studio 89 broadcast.
Changes also occurred over the summer as facilities management started the process of fixing the sinking walls and floor of Greaves Hall. According to Blake, this project is about three-fourths finished with the main cause of the problem being the construction of the building on expansive shale.
With the growing and shrinking of the ground beneath, the foundation of the hall is forced to move, causing cracks and other damages, which have been visible throughout the past school years. When changes were made to fix the cracks, a new hollowing system was put into place under the floor to prevent future cracking in the building.
One of the last changes currently occurring on campus is roadway construction. While the roads are not owned by the school, the state department stays in close contact with the school and has announced that the round-a-bout and related construction to Johns Hill Road is expected to be completed by mid September.
A month after the road construction ceases, NKU is expected to be given ownership of University Drive, said Blake, which could help with things such as snow removal and future issues related to campus renovations and traffic.
About the Contributor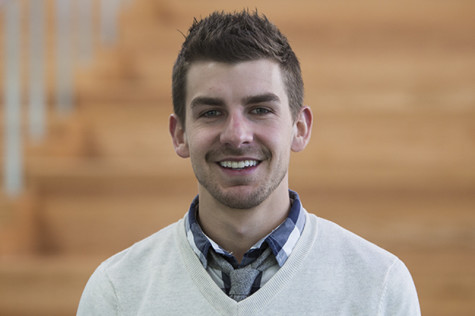 Kevin Schultz, Digital Projects Manager
Kevin Schultz is a senior with a double major in journalism and English at NKU where he has covered everything from administration and student government...