No resolutions yet, but plans for this year in the works
Northern Kentucky University's Student Government Association assembled for their second meeting of the 2012-2013 school year on Monday, discussing upcoming freshmen elections, introducing a new student organization and receiving a special visit by NKU President Geoffrey Mearns.
According to the SGA executive board, there has been a large increase in the amount of election packets that have been requested for the SGA freshmen student elections which will take place on Sept. 5 and 6. Fall election packets, which can be picked up from the SGA office in room 330 of the Student Union, are due back to the Dean of Students Office by 4:30 p.m. on Sept. 4. One of five open senate positions is available to first semester students.
Due to introductory meetings, presentations and other beginning-of-the year business, SGA has not yet presented any resolutions. Plans are set for the first resolution to be presented on their third meeting of the year which will take place on Sept. 10 at 3:30 p.m. in Student Union room 104.
Before the first resolution is presented, SGA President Erik Pederson has released a statement of his personal objectives for the 2012-2013 school year which is made up of what he calls his "big eight goals."
Pederson began working to accomplish these goals with the presentation of a new student organization, "NKU Community Ambassadors" by student Chaz Edwards.
The organization is aimed to give NKU increased advocacy in local, regional, state and national communities while increasing the school's brand, according to Edwards. This organization will be created under SGA and remain as an affiliated organization until it develops thoroughly enough to become its own independent entity.
Making his exit just before the Community Ambassadors presentation, President Mearns spent roughly a half-hour of his time at the beginning of the SGA meeting listening to comments and suggestions from members.
Subjects of the conversation ranged from maintaining the close-community feel of NKU, to commending NKU for being "the top choice for a BFA program in the state of Kentucky." All discussed topics originally stemmed from Mearns' questions, "What are the distinctive attributes of NKU? Why did you come here? And what do you value most?" The questions, Mearns said, were interrogative statements supporting his claim that the best way for him to guide NKU into the future is to first get to know what it is that makes NKU, NKU.
About the Contributor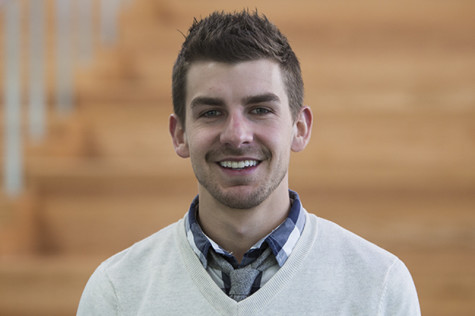 Kevin Schultz, Digital Projects Manager
Kevin Schultz is a senior with a double major in journalism and English at NKU where he has covered everything from administration and student government...