Extended library hours in question
Hang on for a minute...we're trying to find some more stories you might like.
Northern Kentucky University's SGA recently proposed and passed a new resolution that recommends extending the hours of W. Frank Steely Library an extra two hours in the evening.
The new change in hours would leave the library open until 2 a.m. Sunday through Thursday, 7:30 p.m. on Friday, and 7 p.m. on Saturday. The change, according to SGA President Dustin Robinson, could be put into effect as early as next semester.
This resolution comes after similar trials of extending the library's hours were put into effect during the week prior to and the week of final exams in the fall of 2011.
"It was a success during finals week of last semester," Robinson said. "If we could extend it beyond finals week, it would be a good resource for students to have access to."
A majority of the students questioned about the extension had similar feelings as Robinson.
Sophomore political science major Lauren Gabbard was one of the students who agreed. "I definitely think that this is a good idea, especially on Fridays and Saturdays, when people need time to catch up on homework," Gabbard said.
And while the proposal for extended library hours seems to be a popular idea on campus, the reality of how it would be put into action is still questionable.
"Personally, I would love to have extended hours in the building," said associate provost for library services Arne Almquist. "But we have two issues, one obviously being whether this is the best use of resources, and then also there is the issue of usage."
Almquist then elaborated that the issues with the extension are not with the extension itself, but with why the extension is needed in the first place. He explained that 98 percent of journals available in the library are available to any student online, as well as many other resources that the library has to offer. Due to this, there may not be a need for students to use the library so much as a need for students to use computers or a quiet room for them to study in.
According to Almquist, the increased budget, available security that would be needed to extend the hours, the question of whether students would actually use the library's extra hours and other concerns are part of the reason that the library's hours have not been extended in the past.
"Are there not better and efficient ways to do this without opening the entire building?" Almquist said, questioning the need for the extension of library hours and the accompanying items of concern.
The idea of leaving the Steely Café area open for the given extended hours for future semesters was then offered as a solution by Almquist, who also added that the café area would be completely different after renovations this summer, with updated furniture, a new restaurant and possibly even a unisex bathroom. These renovations could leave the area to function on its own as a perfect facility to use for computers and online resources, as well as a place to study—all after the main part of the library has closed.
Regardless of any alternatively mentioned solutions, SGA will soon meet with library staff and administration in order to push their recommendation for the extension of current library hours.

About the Writer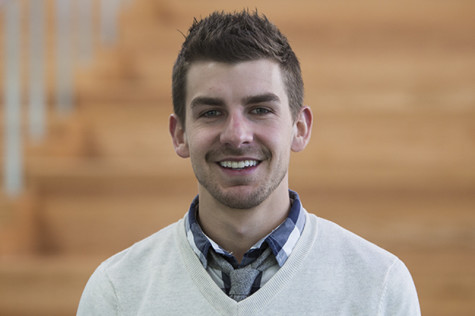 Kevin Schultz, Digital Projects Manager
Kevin Schultz is a senior with a double major in journalism and English at NKU where he has covered everything from administration and student government...