The hunt for new president gains speed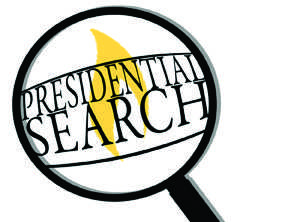 As Northern Kentucky University approaches spring break and mid-semester stress, the pressure to find a new president also begins to rise to meet the early April announcement deadline.
The Presidential Search and Screening Committee is well under way with the search for NKU's new president, and they are right on track, according to the committee's chair Marty Butler.
NKU's current president, James Votruba, is retiring after this semester. He announced his retirement in August 2011. Since then, the search and screening committee has involved NKU and the surrounding areas in helping find the right match for the university.
The committee has conducted forums for students, faculty and staff, and community members where people could give input on what they wanted to see in a president for the university. The committee, with the help of a professional search firm, used the information collected at the forums to create the job requirements and description for applicants.
Throughout January and February, the committee held phone interviews with about 20-25 candidates to narrow the field down. Before the March 14 Board of Regents meeting, the committee will hold off-site interviews with the semi-finalists to narrow the field to 3-5 finalists.
After the finalists are decided, they will be publicly announced and invited to campus for public interviews. Butler said "all stakeholders" will have a chance to meet with the candidates. Stakeholders include, students, faculty and staff, as well as community members.
After meeting with the public, the search and screening committee will submit an "unranked list of two to five names" to the Board of Regents, who will ultimately decide on the final candidate to succeed President Votruba.
He said the committee is "remaining on course" with the timeline set at the beginning of the fall 2011 semester when the search began. If all goes as planned, the new president will be announced in early April, according to the timeline.
The timeline is available on NKU's main website at http://presidentialsearch.nku.edu.
Butler said he is feeling positive with the candidates who have applied so far, but he is unable to release their names due to contract and confidentiality agreements.
The search process will become a lot more public soon, according to Butler. He said "we are turning that corner" to include the public in the process, especially when the finalists are officially announced and make their way to campus.
While the search is under way, the university is also holding multiple events to finish out Votruba's last semester at NKU. Board of Regents Chair Terry Mann said the events are "a true celebration of his presidency."
Celebrating Dreams: The Presidency of James C. Votruba continues on March 21 with the Employee Appreciation Week Luncheon and on March 25 with an afternoon concert by alumni Anna and Dmitri Shelest in Greaves Concert Hall.