Senate wants to know what you want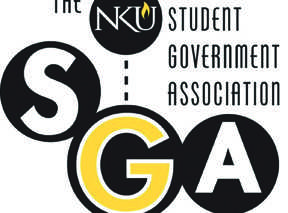 The incoming president of Northern Kentucky University, although still undecided, will supposedly have his hands on a report created by the SGA that will be give him a broad, detailed look into what the students want to see.
The report, called "Norse 2020," is President Dustin Robinson's newest initiative to let the collective voice of the students be heard. Robinson describes the report as "a vision for NKU's future: for students, by students."
The end result will not only be presented to the new president, but also to future SGA members to provide a "strategic plan" of things they need to focus on for the next eight years.
Between the remainder of January and May, SGA will be collecting information from students about what they want to see in the university through student forums, surveys and focus groups.
SGA is focusing on six dimensions of the university: student life, athletics, academics, services, facilities and environment. Within these dimensions, items such as health and wellness, housing and parking, sports, student organizations and dining are included.
The organization will hold six different student forums that each focus on one of the dimensions.
Throughout the rest of the semester, SGA will also be hosting focus groups where the organization can get a more specific and focused idea of what students are wanting to see in their ideal university.
In addition to forums and focus groups, SGA will be sending out surveys via email to NKU students, as well as conducting in-person surveys on campus.
Robinson said the in-person surveys will happen and change weekly, but will not be extensive. It will be "just a couple questions," he said.
To encourage participation in the forums, focus groups and surveys, Robinson said students will receive incentives, although the specific are still undecided. For example, in the forums, pizza may be provided, and for taking the online survey, there may be one student who wins a gift card.
After the information is collected, SGA will present the new president and the Board of Regents with the report in May.
"The Board [of Regents] does listen, they will know where we want to go," Robinson said about the completion of the report.
Robinson, who graduates in the spring, is looking ahead for the future of NKU with Norse 2020. Not only does the title represent a "20/20" view of the university, alluding to perfect vision, but it is also a plan for the president and future SGA for the next eight years, when the year will be 2020.
The information collected now is "not necessarily realistic," because the report will document all requests, but more of an ideal overview of what students want to see in the future, according to Robinson.