Senate unhappy with cuts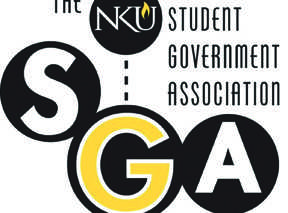 The SGA started their rally for higher education early this year with multiple presentations about state funding at the organization's Jan. 23 meeting.
Senator Joseph Fons presented the senate with a presentation about the recent announcement of a 6.4 percent budget cut from the state government. With this presentation, Fons encouraged the senate to call their legislators to fight for more funding.
President Dustin Robinson also encouraged the entire organization to attend the Rally for Higher Education on Feb. 7 to challenge Kentucky legislators to increase the amount of funding Northern Kentucky University will receive in the upcoming school year. The university budget will lose approximately $3.2 million if the cuts are approved.
In comparison to other Kentucky universities, NKU receives $19.3 million less in state funding, according to Fons' report. Because of this and the pending cuts, Fons, Robinson and Legislative Liaison Chuck Rust repeatedly reminded students to make the call to Kentucky legislators letting them know "just how important it is to sufficiently fund higher education."
Fons even made the effort to create a YouTube video with instructions on how to make the call in just about two minutes. The video is titled "Calling your legislators for NKU."
Student Life Coordinator Josh Gruenke said that, in previous years, the state decided to return some money back to NKU after students stepped up and spoke out against the cuts.
In addition to budget talks, senator Daniel Cieslak presented the first reading of a resolution to increase dining options in the Fine Arts building.
Cieslak said he was approached by multiple students about increasing the food options in the building because "some vending machines do not provide adequate options for students throughout their day."
The resolution asks the Board of Regents to consider low-cost, refrigerated vending options and a barista cart that serves warm meals, similar to Darwin's Cafe in the Science Center.
NKU President James Votruba also stopped by the meeting to thank the students for creating the proposal to rename the Student Union after him and his wife, Rachel.
He said he was glad SGA included Rachel in the name because the job as president "is a labor of love for each" and he was "deeply touched" that the senate reflected that.
Finally, Robinson announced the readiness of wireless printing and working through NKU networks remotely. He said Information Technology is wanting students to try it out and provide feedback.
For more information about wireless printing, contact SGA at sga@nku.edu or Doug Wells, IT planning and development director, at wellsdj@nku.edu.