Senate preps for break
With two more unanimously passed resolutions under its belt and multiple new members, the Northern Kentucky University Student Government Association has seen an unexpected turnaround as the semester comes to a close, even in President Dustin Robinson's eyes.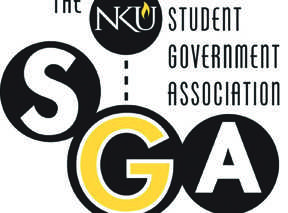 "Overall, I think that this has been an amazingly successful semester," Robinson said after listing off the organization's accomplishments this semester. The list of 15 to 20 items included resolutions, partnerships and increased participation. For Robinson, the list was surprising, because "he didn't expect it to be this long."
NKU President James Votruba also approved SGA's recent resolution asking for more funding for Health, Counseling and Prevention Services to hire a new staff member. The Interim Vice President for Student Affairs Lisa Rhine said in an email statement that the need for increasing the staff has been a long-standing, identified need by the Division of Student Affairs and the University.
Rhine was not available for further comment at the time of publication.
Ken Kline, NKU senior budget director, said the funds for a new staff member in Health, Counseling, Prevention Services have "been made available." Kline did not provide any more information about where or how the funding fits into the university budget after request for an interview.
After the resignation of two executive board positions, the secretary for public relations and the legislative liaison, the senate voted to appoint the replacements. Senator Chanell Karr was appointed as the secretary for public relations and Senator Chuck Rust will be the legislative liaison at the start of the spring semester.
With Karr's appointment to the executive board, another senator appointment will take place in the spring. For more information about applying, visit the SGA office in Student Union 330 or http://sga.nku.edu.
In addition to two position appointments, SGA unanimously passed their two most recent resolutions — one to improve commuter meal plans and one to increase the student fee allocation board funding.
The commuter meal plan resolution, which asks the university to add options that include plans that offer three and five meals per week, plus Flex dollars, passed without debate from the senate.
However, the remaining resolution, which asks the university to increase funding allotted to the student fee allocation board by $60,000, saw more debate than usual from Senators Joseph Fons and Chaz Edwards.
Before SGA voted to approve the resolution, Fons requested to lower the requested $60,000, because it is "a little excessive," "unrealistic" and "not feasible." Edwards agreed and said the number should be smaller so it is "easier to swallow" by the administration.
Senator Holdan Markland said the requested $60,000 is "immaterial" in comparison to NKU's current budget. Dean of Students Jeffrey Waple also said the senate has "gotta start somewhere" for the university to consider their request. Waple advised SGA to aim high.
After the debate, the resolution passed unanimously and will now continue to move through administrative channels.