Driver blames foggy windows for collision, again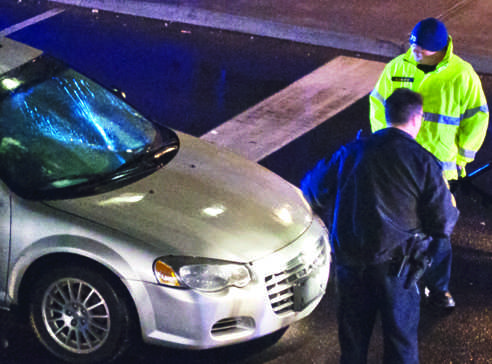 This semester, three pedestrians have been struck by vehicles on Kenton Drive. In both instances, driers blamed foggy windows.
According to the police report, Megan Brauer struck Eddie McSurley with her car on Kenton Drive between Griffin Hall and the Kenton Drive parking garage
In the report, Brauer stated that the heat in her car was not working, but she began driving down Kenton Dr. with her foggy windshield regardless.
According to NKU Chief of Police Jason Willis, Brauer is not being charged for the collision. For her to be charged with a misdemeanor, an officer would have had to witness the collision.
McSurley and his friend Daniel Shelton were crossing Kenton Dr. when Shelton saw the car coming, but it wasn't slowing down. He jumped out of the way. The next thing he heard was McSurley screaming. He then watched as McSurley was flung from the vehicle, according to the report.
McSurley said he was "thrown about 10 or so feet" when walking to an executive meeting for his fraternity. Once he landed, McSurley was sure he didn't have any broken bones or life-threatening injuries.
"Can't say I was afraid," McSurley said. "I've never been hit by a car, but I have had similar injuries."
He was complaining of pain in his left elbow and in his leg below the knee, according to the police report. McSurley was transported to the emergency room, where X-rays were taken, but he was "mainly okay."
"There needs to be some kind of street or caution light where I was hit," McSurley said.
Willis said the evaluation of lighting on campus is an ongoing process, and he is "still looking at ways to make campus safer."
The biggest problem is drivers' inattention, according to Willis. Willis and staff of the department of public safety are trying to educate pedestrians and drivers. Willis is in the process of setting up meetings to educate students about traffic safety.
"Drivers need to anticipate that there are going to be pedestrians in the road," Willis said.