Reflections on the life of a founding professor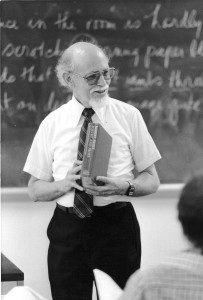 In the early morning hours of Nov. 26, Frank Stallings, professor emeritus of English at Northern Kentucky University, passed away of Alzheimer's disease at the age of 83. Stallings was a professor and an NKU founder who was hired on during 1972, shortly after NKU's 1968 opening. Stallings retired in 1991.
Stallings had served as the chair of the literature and language department (now the English department) and faculty regent in the mid-'70s. Stallings was given the Frank Sinton Milburn Outstanding Professor Award in 1987.
While Stallings was a man of short height, his enthusiasm for what he taught gave him a large and engrossing presence, according to Steve McCafferty, a professor at The College of Mount Saint Joseph and a student of Stallings during the '70s.
"His stature and manner in contrast to the intensity of his teaching, that kind of captures it for me. Good teachers are like that. They kind of sneak up on you, they draw you in, and all of a sudden, you're exposed to the light. It's not something you can put your finger on; it's light. Your light is illuminated," McCafferty said.
McCafferty mentioned that during a visit to Stallings home, he witnessed a sight he wouldn't forget. "He had this green visor on that accounting people wear. And he was bending over his desk, and it was just an unforgettable image. I think of that, how Frank prepared for his classes. He was very studious and thorough and interesting."
Stallings specialty was Mark Twain and Henry David Thoreau.
Robert Wallace, a regents professor of English at NKU, said that Stallings liked to "reverse people's expectations," especially when it came to the writings and works of authors.
McCafferty said that Stallings always appeared comfortable and familiar with the material he taught, "His intensity was quiet, but it was very obvious," McCafferty said.
Bill McKim, former chair of the NKU literature and language department, said that Stallings did not promote himself or his own ideologies and theories during his teachings, but focused on the authors and their works. McKim credited this approach with Stallings' ability to resonate in the students minds.
Wallace remembers Stallings unique approach to being the chair of the department. "After he became chair, he would still kind of look after everyone. He'd walk through the corridor to see who was in and what their latest project was."
Wallace said that Stallings had distinct, clear and beautiful handwriting that became known across the department. Stallings would give handwritten notes to faculty to congratulate them on their accomplishments.
Stallings was known for giving back to the community, and he contributed to NKU even after his retirement. According to Wallace, Stallings served as President of Friends of Steely Library from 2002-2005. The endowment for the Stallings English Scholarship in honor of him was given in 1989 by the Wells of Lubbock, Texas, and is given to students who are undergraduate English majors. Stallings was also known for his works "Groundbreakings: Northern Kentucky University's first twenty-five years" and "Black Sunday: The Great Dust Storm of April 14, 1935."
"I'm grateful for people who give with no expectation of return, and that's what Frank did," McCafferty said.
As mentioned by Gail Wells in her email to NKU on Nov. 28, a memorial is tentatively planned for Stallings at 1 p.m. Dec. 10 at the Trinity Episcopal Church in Covington, Ky.