An iPhone application created by Northern Kentucky University students and faculty to help others in sudden cardiac arrest is coming back home to rescue people.
A group of students and faculty from the Center for Applied Informatics created the Fire Department Mobile Application to notify subscribers when someone goes into sudden cardiac arrest and needs CPR.
"The app empowers everyday citizens to provide life-saving assistance to victims of sudden cardiac arrest," said Matt Stamey, chairman of the PulsePoint Foundation.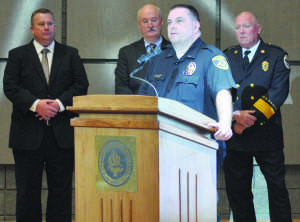 Based in the San Francisco Bay Area, PulsePoint is nonprofit and seeks to make it easier for people who know CPR to help others.
The app rolled out in April 2010, according the PulsePoint website, and has been operating in the San Ramon Valley Fire Protection in California since summer 2010. It is now being adopted by the Erlanger Fire Department. Stamey said the app would be released for Android soon.
Though the app was developed at NKU, PulsePoint has assumed responsibility of the app. They will work with Erlanger and other fire departments to take it to a larger, nationwide scale.
"Through the PulsePoint Foundation, fire and EMS agencies can now adopt this important application at a much faster rate, and we are proud that NKU can be part of it," said Tim Ferguson, NKU CIO and member of the PulsePoint Foundation board.
Erlanger Public Safety Communications Center Officer Steve Castor said he first heard of the app when it was used in San Ramon, and asked his superior officer if it was something Erlanger could use as well. Later, Sprint, who has a partnership with NKU on a Blackboard application, approached the Erlanger Fire Department about using the app.
The app uses geo-location services to target subscribers when a call of sudden cardiac arrest comes into emergency response centers. As dispatchers notify emergency response teams, a notification goes to subscribers who then can go to the person to administer CPR before the EMTs arrive.
According to the American Heart Association, about 300,000 people are treated for sudden cardiac arrest outside of hospitals yearly. Less than 8 percent of people who go into cardiac arrest outside a hospital survive.
According to the American Heart Association, CPR and automated external defibrillators raise survival rates, but they are rarely used. However, providing immediate bystander CPR after sudden cardiac arrest can double or triple a victim's chance of survival, according to the group's website.
"I'm quite confident that the app will improve both bystander CPR rates and public access defibrillator usage worldwide, leading to an increase in survival from sudden cardiac arrest," Stamey said.