Law students have fun winning
Fiction can be fun. John Milligan, a second-year law student at the Chase College of Law, played the role of the witness at the Kentucky Mock Trial Competition. It was a learning experience that he will never forget.
"It was a lot of fun to take on the personality of the witness and to go head-to-head with opposing counsel on cross-examinations," Milligan said.
"It was kind of like a game of chess because we both know the same facts and they're trying to get certain pieces of information out and it's our job as the witness to answer honestly, but in a way that isn't detrimental to our side. When you know you avoided their traps, it's always fun to give a little grin and hear, 'No further questions your honor,'" Milligan said.
Milligan played the role during the Salmon P. Chase College of Law team's winning performance during the Kentucky Mock Trial Competition at the University of Louisville on Nov. 13 and 14. The four-member team, consisting of law students Lawrence Hilton, Sean Pharr, Danielle Reesor and Milligan, competed against teams from the University of Kentucky College of Law and the University of Louisville Brandeis College of Law. The win was the third time since 2005, and it was the first time that Chase has won the competition when held in Louisville.
"Hearing them say 'Chase College of Law is the winner' was just an amazing culmination of feelings that have been building up during the months of preparation and a weekend full of high-stress competition," Milligan said.
The Best Advocate award for the competition went to third-year law student Lawrence Hilton, marking this the second year in a row that a Chase student has won.
"I am so proud of everyone on the team for the hard work and dedication they put in. For my team in particular, Danielle and Lawrence were amazing advocates," Milligan said.
The same weekend, Nov. 13 and 14, the Chase College of Law Arbitration Team won the American Bar Association Regional Arbitration Competition held on NKU's campus. The team included Alyse Bender, Jessica Biddle, Jonathan Davis and MyLinda Sims.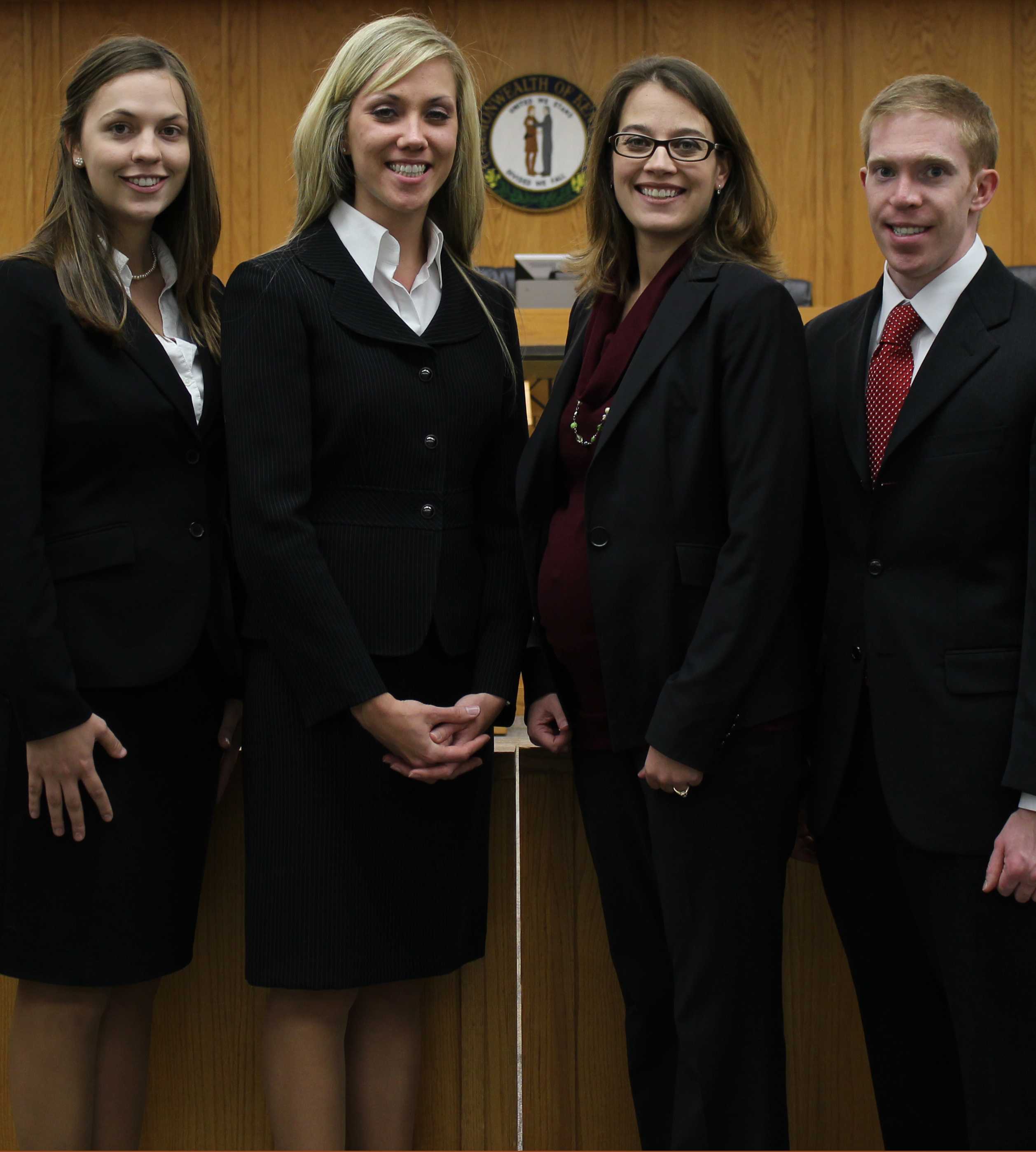 Sims, a third-year law student, enjoyed working with the team in order to put on the best case possible, and took advantage of the competition as a learning experience.

"The competition taught me a great deal about oral advocacy and overall trial strategy. Arbitration and meditation are a large part of the practice of law, and I think this experience has given me practice skills that will help me to practice in these areas upon graduation," Sims said.

The team beat squads from John Marshall Law School, Georgia State University College of Law, Louisiana State University Herbert Law Center and St. Mary's University School of Law. The Chase team advanced to the National Arbitration Competition on Jan. 21 and 22 in Chicago, Ill.

"It was great to represent Chase again this year. My team consisted of four remaining members that all won regionals last year, so we came into this wanting to repeat as champions. Now we have our eyes set on nationals in January," Sims said.

Story by Derick Bischoff