One woman takes four views on eating disorders
A small group of students gathered in the Student Union Ballroom at Northern Kentucky University Tuesday night and were fed the facts about eating disorders through a one-woman show.
All it took was three chairs, two pairs of glasses, one table, and one red coat for Paten Hughes to transform into four vastly different characters in "The Thin Line."
Ellen, the young woman with an eating disorder wore the red coat, crossed her arms, and talked quietly as she listened to the negative inner voice haunting her.
In start contrast, Ms. Negative slid on chic sunglasses, was loud and aggressive as she yelled at Ellen, criticizing her body. While Cindy, Ellen's friend, struggled to keep her secret and save her, too. The reading glasses were for Ellen's mom held her hands in front of her and talked calmly about her fears.
The Activities Programming Board presented "The Thin Line," a one-woman show and discussion designed to break the silence surrounding eating disorders. The program wants to illustrate the pain and struggle that comes with eating disorders through the story of Ellen and her loved ones, which is based on a combination of real people's stories.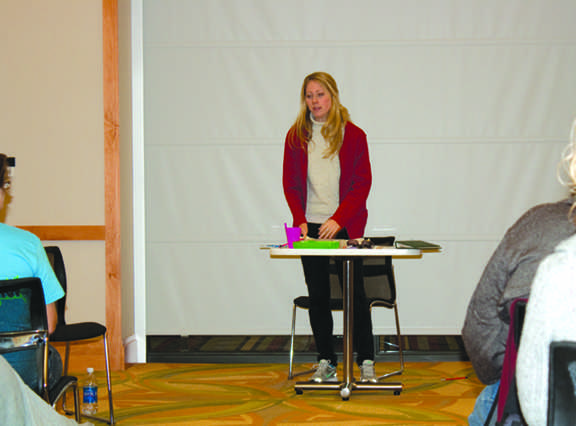 There are three defined types of eating disorders, according to the National Eating Disorders Association. Anorexia Nervosa, characterized by self-starvation and excessive weight loss, Bulimia Nervosa, the secretive cycle of bingeing and purging, and Compulsive Overeating, periods of uncontrolled, impulsive, or continuous eating beyond the point of feeling comfortably full.
Paten Hughes, the actress, said in the panel discussion after the show that eating disorders on campuses "are much more of a problem than we admit." They're becoming glamorized and socially contagious on college campuses, but are well hidden by sufferers.
At least one eating disorder affects one in four students on any college campus. In the general public, about one to five percent of people suffer from an eating disorder, equivalent to roughly 16,000 of Cincinnati's 333,000 residents.
Nancy Zwick, adjunct nutrition professor at NKU and a member of the panel, said bulimia is the most dangerous of the three. The visibility of physical consequences of bulimia, such as possible rupture of the esophagus and tooth decay from stomach acid, means the sufferer will more likely be diagnosed and admitted to the hospital for treatment.
But that is not to say anorexia or compulsive overeating is not serious.
Anorexia can lead to heart failure, loss in bone density and muscle, fatigue, dry skin. Sufferers sometimes even grow a downy layer of hair on their body to help maintain body temperature. While those suffering from compulsive overeating may exhibit symptoms resembling clinical obesity.
One audience member personally related to the program. She has personally overcome an eating disorder.
"They're not going to get help until they want it," she said. For her, seeing pictures of herself was the wake up call to get help.
"It's like an addiction," Zwick said. And as with any addiction, recovery often takes time and people the sufferer trusts to talk to them clearly and honestly.
"Show them that you care," said Associate Professor of Nursing Adele Dean.
It is important to remember that the person suffering may not be immediately ready to change, they may even get angry.
In the show, Cindy, the friend, tried to talk with Ellen about her problem. Ellen twisted her words around and it only upset her more.
"You need to be ready for how they will respond," because it may not always be successful the first time, Hughes said.
On campus at NKU, there are many places to turn for help, be it for prevention or recovery. The Health, Counseling and Prevention Services, the Campus Nurse, and the Wellness Center are all willing and able to provide information on eating disorders.
Contact the Health, Counseling and Prevention Services in University Center 414 or by phone at 859-572-5650. The Campus Nurse's hours are from 8:30 a.m. to 4:00 p.m. Monday through Friday on the UC 4th Floor. The Wellness Center is located in Founders Hall 111 or contact Director of Wellness Karen Campbell at 859-572-5684.
For more information about eating disorders, visit www.nationaleatingdisorders.org.

Story by Claire Higgins