Odd bedfellows
When mom said: "goodnight, sleep tight, and don't let the bed bugs bite," you probably never thought anything of it. Well, think again. Bed bugs are now being found in elementary schools, local libraries and movie theaters. They can even be found in packages, between pages of books and in headboards. It makes us wonder: how bad are they at NKU?
According to the August 2010 issue of "Time" magazine, Cincinnati is such a magnet for bed bugs that those with infested apartments have resorted to living on the streets. Over the past decade, bed bugs have slowly become a national epidemic, no matter how meticulous a person is about hygiene.
According to the Northern Kentucky Health Department, bed bugs are flat, thin insects that are usually brown or reddish-brown in color. They leave red blots on mattresses and box springs. Bed bugs require blood to survive which is why when someone has bed bugs, they generally develop bites on their skin which may range in size depending on how a particular person reacts. A human cannot usually feel these bites, which is why most people don't even know they have a case of them. However, do not fear diseases at this point. Unlike mosquitoes or ticks, there is no evidence to currently support that bed bugs inject disease into the blood.
According to Director of University Housing Pete Trentacoste, NKU has had roughly 10 cases of bed bug infestations in the past five years. The infestations took place in the residential village. The first known case was in 2006.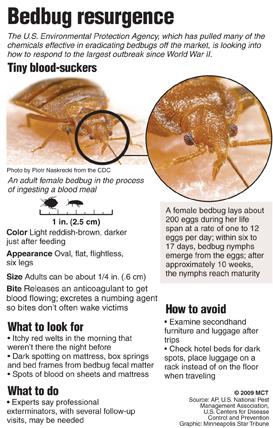 When the fall 2010 students moved into housing, they were given informational pamphlets on bed bugs. These pamphlets described what the bugs look like, what they do and how they are treated. Trentacoste trained the residential advisers about proper inspection. NKU RAs are in charge of handing out the information and notifying the housing department when a bug is found.
Trentacoste recently spoke at The North American Bed Bug Summit in Chicago, Ill. He has been director of housing since 2007.
"Nationally this is a huge issue. Everyone in this department knows how to identify them," Trentacoste said. "If anybody is on the cutting edge of what to do and how to treat this, it's NKU."
Trentacoste is adamant about making sure no student has to live with bed bugs in university housing and has said that he found himself becoming an expert by necessity.
"We prepare a student for treatment even if one bug is found," he said. "Based on what we are handling, we find out what tools we have and take that approach."
Currently, NKU is using a heat treatment to exterminate bed bugs. When a bed bug is exposed to heat over 118 degrees, they dehydrate and cannot survive. When a student has to have a treatment, NKU generally has it finished within eight to ten hours. Trentascoste thinks the heat is the best solution at the moment.
"No room that was heat treated has ever had to be treated again," Trentacoste said.
The treatment is not chemically harmful to individuals. Also, it is the greenest method of treatment.
"I don't think that there's a silver bullet out there at the moment (for treatment)," Trentacoste said. "If there's anything that's close, it's heat."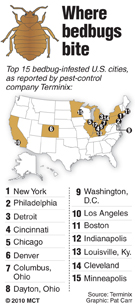 After a room has been treated, the student is equipped with a product known as "Climb-Ups." These dish-like saucers are placed underneath the four legs of a bed set and help trap bed bugs if they were to fall off the bed. After the critter climbs into the saucer, they are not able to get out. The "Climb-Ups" have a thin layer of athletic tape on the outside, allowing the bugs climb inside. Once the critter is in the disc, the inside is slippery so the bug cannot crawl out. If you would like to purchase these, they are about $6 online.
Even though cases of bed bugs have been found in the dorms within the past five years, it seems that housing demand is still high. "It certainly doesn't hurt our demand," Trentacoste said, "No one has asked to move out because of this."
Story by Jennifer Parker