Be careful, don?t step in a crack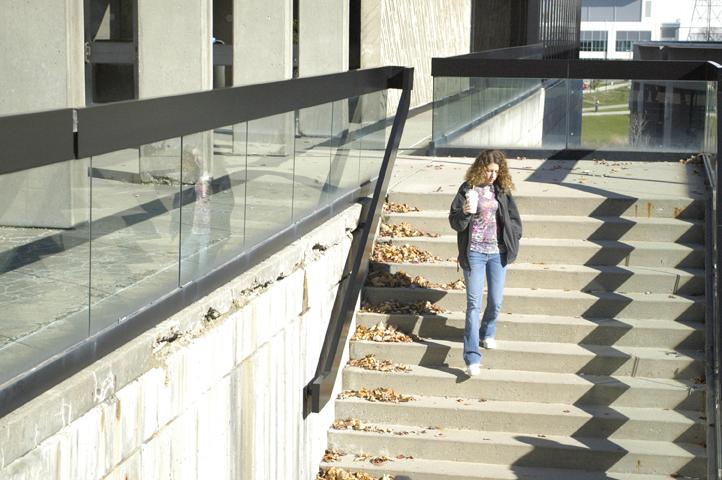 Mark Payne/ Managing editor
Despite receiving $2.25 million in stimulus money for university improvements, Northern Kentucky University Facilities Management will not be spending it to permanently repair the cracks and holes in the concrete across campus.
Rather, they will be providing short-term fixes by patching the holes.
' 'I really think it is an issue,' said sophomore Tiffany Trahan, an Art student, about the concrete issues. 'You have so many kids walking around here on campus – what if one of them gets hurt?'
Of the stimulus, $1.5 million will be used to improve the basement floor in the University Center, which, according to Larry Blake, assistant Vice President for Facilities Management, will be used for student-oriented activities. Another $250,000 will be used for classroom upgrades.
'The educational mission comes first – concrete is going to follow that,' Blake said.
After improving the educational mission, $250,000 will be used to demolish the now defunct NKU Covington campus.
'The building is empty, we've vacated it, we're not using it 'hellip; the building really needs to come down,' Blake said of the Covington campus.
He said the rest of the $2.25 million will be used to improve roofs on campus, patching up concrete and other more important projects – which are projects intended to prevent further damage to the university, according to Blake, but don't fully repair the existing damage.
'We're doing the patches on the concrete throughout the campus, which is not the best way to do it, but it removes the trip hazards,' Blake said.
Blake said Facilities Management is trying to spend the money as wisely as possible.
'If you look around, there are spots in the concrete that could use a little bit of TLC (tender love and care),' said freshman Jamie Ingram, an undecided student. 'But if it comes to the classrooms being protected 'hellip; the classrooms should come first.'
Facilities Management receives around $3.25 million a year for university improvements, according to Blake.
'That has to take care of the heating systems, that has to take care of the air conditioning, that has to take care of a lot of things other than concrete,' said Blake.
Of the $3.25 million Facilities Management budget, about $80,000 is used annually to work on concrete around campus, according to Blake.
'It's just going to be a continuous process until we get the money to fix the plazas,' Blake said.
Blake also said he has no idea of knowing how long the process could take and we would need a 'big ticket'.
'It's difficult to get state funding for those kinds of projects,' Blake said 'We're hoping to find a donor somewhere that wants his name on the plaza.'
In addition to concrete problems, there are some lights that haven't been on in Founders Hall for around six months and, according to Blake, will not be fixed for sometime because the problem involves a conduit – a pipe with electrical wires – underground that's not working.
'To be honest, the issue is that it's a major task to cut the concrete, find the conduit, run new conduit and relight the thing,' Blake said. 'We've added some other lighting to get at least ambient lighting, so it's not completely dark.'