Committee walks the walk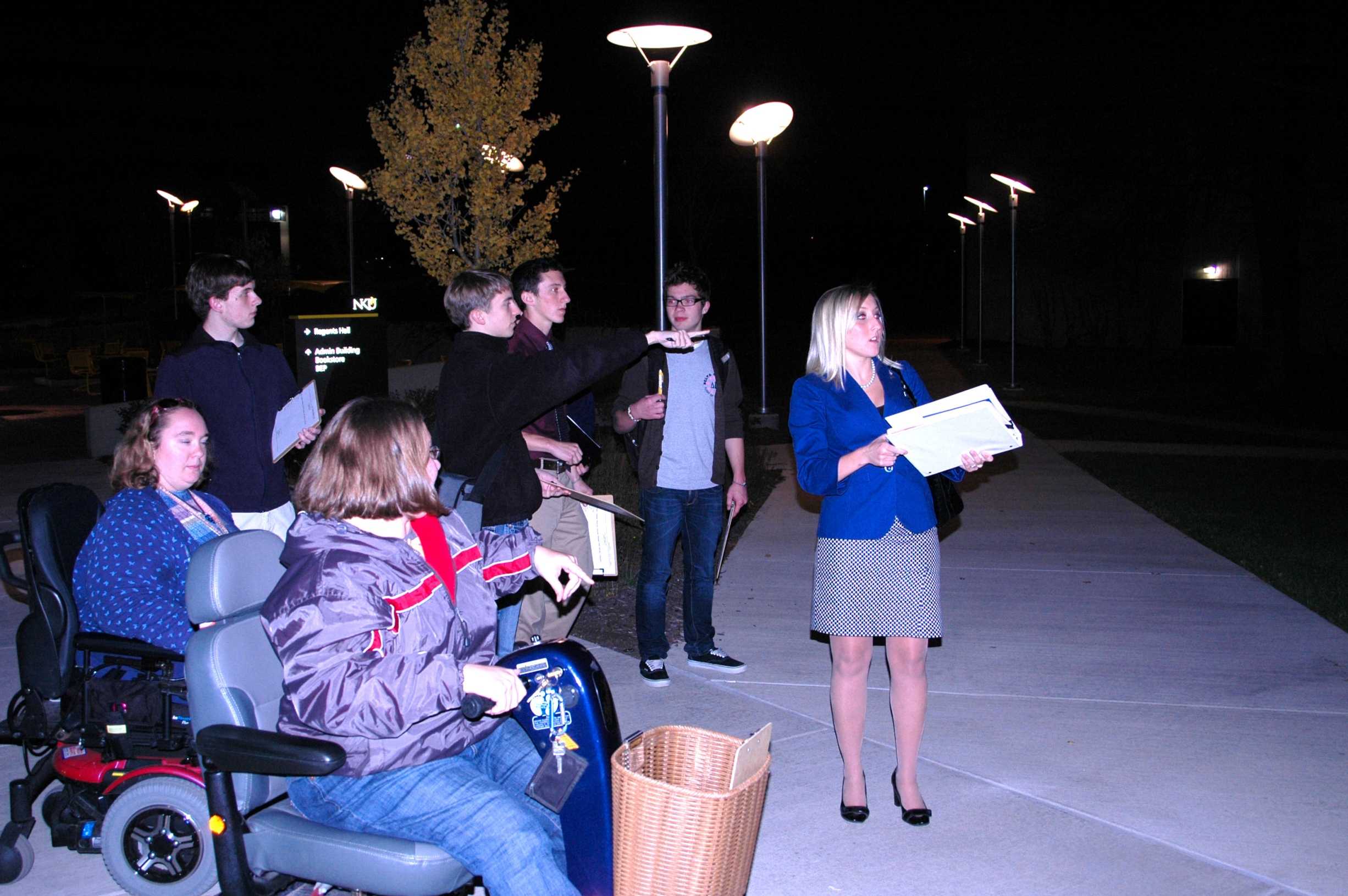 Photo provide by Student Government Association.
The Student Government Association's committee University Improvement held a campus safety walk Oct. 26.
The walk, attended by senators of SGA, aims at improving various aspects of Northern Kentucky University.
'The campus safety walk is designed to the allow the Student Government senate to walk around campus as a group and examine, basically, how the campus is structured and determine whether or not it is safe for those on campus,' said Leigha Phelps, the University Improvements Committee chair.
Phelps said the committee looked at lighting, walkways, parking and various other aspects where safety concerns could arise.
The committee has been in SGA for as long as Phelps has been around, which is three years. The University Improvement Committee focuses on the physical and internal improvements to campus, which range from concerns with Student Life to academic concerns. She said the walk has also occurred every single year she has been in SGA.
Phelps feels the walk is necessary because it allows the SGA senate, which is composed entirely of students, to take time out of their day to stop and look at aspects of campus.
'A lot of times we get caught up in our day-to-day hustle and bustle and we overlook some of the things on campus that could be potentially dangerous if we didn't take action to fix them,' Phelps said.
The senators that participate in the walk have to follow guidelines, helping analyze each location on campus to determine if it is safe, or not, according to Phelps.
Phelps said this year's safety walk was different from past years.
'In previous years what we've had happen is we've had a couple members of the staff here at NKU walk with us and look at some of the damages. There are some problems in that,' Phelps said. 'We feel like it would be more professional and more efficient to students and to members of the administration if the Student Government Senate walked around and tried to decide what we felt like were the damages, or the safety concerns were.'
Phelps said they will take the data and create a presentation to present to the administration at a future Student Government meeting, which has yet been decided.
Phelps said this year's evaluation had around 15 attend and was very successful. The group is just glad to help NKU.
'We look at any area of campus where there may be a possible weakness that we could fix to enable students to have a better experience at NKU and allow NKU to achieve its goals,' Phelps said.