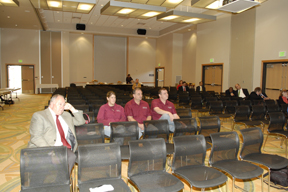 Edward Morris/Assistant Photo Editor
Due to increasing need in the area, a campus-wide campaign says that 'now more than ever' is the time to get involved in making a difference. This week, Northern Kentucky University is promoting a campus-wide fundraising campaign for two local community organizations that provide funding to nearly 200 outreach charities in the greater Cincinnati area.
The campaign kicked off Monday seeking 100 percent involvement of the NKU community 'at some level' with the United Way of Greater Cincinnati or Community Shares, two organizations that provide funding and grants to charities throughout the region. Individuals are being asked to donate to these agencies or their partner organizations throughout this week.
The rallying cry 'now more than ever' is more than a slogan, according to Leshia Lyman, Northern Kentucky Director at the United Way of Greater Cincinnati.
'Every month the calls to United Way 211 for assistance are up from the same month last year,' she said. 'Calls for basic needs like utilities, food and shelter are up 55 percent over the same time last year and 40 percent of the people applying for basic public assistance or visiting food pantries are first-timers.'
'Now more than ever, we need everyone to help because the needs are greater than ever,' she added.
'Like Katrina, there is a storm out there and it affects all of us in many ways,' said Jan Hillard, associate provost for regional stewardship and co-chair of the planning committee for the campaign. Hillard went on to explain that this storm is a financial one that is affecting all of us and our community and added that the combined campaign 'is really about a call to action.'
Donations can be made at events this week or made online the third week of October by filling out a pledge card. Faculty and staff can donate online through a link on the NKU home page at www.nku.edu.
For event planners, however, the goals go beyond financial contributions.
Kim Luse, executive secretary to the president for special projects, who is spearheading the combined giving campaign, and Peggy DeJaco, the staff Regent who co-chairs the planning committee, said they hope the campaign will help bolster awareness of how almost all members of the NKU community likely know someone who is reaching out to community organizations for help. In fact, they said, two out of three people will need to utilize these services at some time.
Luse revealed at the kickoff event that her own son had to utilize the services of Brighton Center, a United Way agency that offers job, family, community and youth services.
NKU's goal is to double the previous levels of participation in the combined campaign (which was nearly 50 percent) by getting 100 percent involvement at some level, according to Luse. She admits that 'trying to reach everyone is a challenge.'
This is one of the goals of the community agencies NKU is partnering with as well.
'It is important to educate the community about agencies that are making a difference in the community,' said Mary Beth King, campaign manager at Cincinnati Shares. 'Once people learn about these agencies they then can make the choice to donate.'
On Monday, NKU hosted its kickoff for the event which featured representatives from Cincinnati Shares and United Way's partner organizations, including Big Brothers Big Sisters, Children's Law Center, Imago, and Out of the Crossfire.
Each organization emphasized how they depend 100 percent on the community for support.
The combined campaign is hosting a number of events this week to raise awareness and funds.
On Wednesday, the campaign plans to blanket campus with 3,000 balloons in an effort to raise awareness and funds for the campaign. For a donation, a card and balloon can be delivered to a friend or coworker on campus. Donations will be accepted in the University Center second floor dining room.
Hot dogs, hamburgers, vegetarian burgers and more will be served up Oct. 1 beginning at 11:30 a.m. in front of the Student Center and individuals can enjoy lunch for only a $2 donation. The food is being donated by Chartwells, NKU's food service provider, and so all proceeds will go to the campaign.
An ice cream social will wrap up the campaign on Friday. event will also feature 'fabulous prizes' that have been donated from area businesses, Luse said, and will occur at 3 p.m. in the Student Center Ballroom. In addition, for a $5 donation, campus employees can wear jeans to work.
On top of raising awareness of the work of these community outreach agencies, King hopes that individuals will become aware of how it does not take much to make a difference.
'If one person donated $1 per pay period it would sponsor a round of vaccinations for two cats or dogs, $2 would provide haircuts to 15 economically challenged individuals, to boost dignity and self-confidence for job interviews, $4 per pay period would provide 25 low-income people with free tax preparation or 40 people with referral services that supply mortgage counseling,' she said.
Even though the combined campaign has shifted to emphasizing awareness, the financial support raised by the campaign is important to these organizations.
'NKU's support for these causes is critical to social justice, environmental health, human rights and activism in our community,' said King.
The goal for the United Way portion of the NKU campaign is $32,100, according to Lyman. She reported that last year people from NKU contributed $30,562 through the campaign. NKU is number 20 on our Top 25 northern Kentucky companies contributing to its annual campaign.
King at Cincinnati Shares said that NKU will have to set their own goal for the campaign, but said the amount raised for the organization has ranged from $15,000 to $25,000 each year.
University President James Votruba still said the primary fundraising goals of the combined campaign are targeted at what he called NKU's 'generous faculty and staff.' However, event planners and the community agencies said they desire to see increased student involvement and donation.
'I would like to see more student involvement, not just in fundraising, but also in creating partnerships with Community Shares organizations,' King said. 'I would like to see students spark a passion that turns in to activism with our member groups.'
'We are involving students. We don't depend on students'hellip; because they have their own financial challenges,' Votruba said.
However, Votruba also noted that many employees are feeling financial strains now too.
'The recession has created a lot of stress 'hellip; for many of our employees,' he said.
Still, despite everyone's financial circumstances, these agencies want individuals to become involved, even if they are limited in what they can contribute. '
'We recognize and understand the challenges facing donors from the economy but we hope that people will see the campaign as a critical time to step up and be part of an effort that delivers help for today and hope for tomorrow,' said Lyman. 'The (entire United Way campaign) goal of 10,000 new donors is a call to everyone to step up and participate at whatever level they can-whether it's a dollar a month, a dollar a week, a dollar a day, or more if you can.'
'We encourage each person to give based on their values and in an amount that is significant to them,' said King.
In addition, money raised through this campaign for the United Way will multiply.
'The donor goal is supported by a new match program '- every dollar contributed by a new donor will be matched 1:1 from a pool created by a number of individuals, foundations and companies to help this year's campaign,' Lyman said.' 'New or increased Leadership Gifts of $2,500 or more will also be matched 1:1, while new gifts of $25,000 or more will be matched
2:1.'
Individuals can choose whether they would prefer to donate to both Community Shares or the United Way of Greater Cincinnati. Or, you can designate that your donation go to specific agencies with which these organizations partner.
That option may be particularly attractive to some donors with political considerations. Community Shares provides to a few organizations that have a history of controversy, including Planned Parenthood, which is an organization that supports the pro-choice movement on the issue of abortion, and the Association of Community Organizations for Reform Now, or ACORN, which on a national level, has been accused of voter fraud and was caught on camera allegedly providing tax advice to a theoretical prostitution ring.
'You as a giver choose where the money will go,' said King.
'No money has been allocated by Community Shares for certain groups. Individuals make the choice based on their interest,' she said. 'Someone can give to all 27 of our member groups or hand select the ones he or she likes best.'
In addition, King says that donating to Community Shares instead of directly to its partners can actually benefit those individual organizations.
'Many of our member groups have less than five staff members, some only (have) one,' she said. 'Community Shares takes the burden of processing numerous donations off their hands. We process all donations and send our member groups checks on a quarterly basis.'
She explained further that 'it makes the work flow much easier for our member groups. They can focus on their work in the community and we help raise funds to support that work.'
While many major corporations often have matching donation programs with the United Way, Votruba said that NKU is not a for-profit corporation and 'couldn't afford to do that.' He also added that private donors do not give to the University so that they can then give that money to someone else, and he would be 'uncomfortable' with using tax or tuition dollars for that purpose.
In fact, Votruba and Luse both said NKU rarely makes any direct financial contributions to community organizations, and the few instances where it has have been in sponsoring a table at a community event.
However, they both also emphasized that the NKU community regularly contributes on an individual basis, and Luce emphasized that the University instead focuses on making in-kind donations.
Luse herself is serving with the United Way through its 'loaned executive' program, meaning she spends some of her paid work time assisting the organization. And Votruba serves on the United Way of Greater Cincinnati's board of directors.
'(Luse) is a great asset to the Northern Kentucky United Way office and to the NKU campaign,' Lyman said.
In addition, Votruba and Luse both said that employees regularly help out with various organizations. The community partners in this campaign agree.
'We've had outstanding volunteers from NKU students and staff,' said King. 'Lives are changed thanks to NKU.'
The campaign for the United Way has been in place at NKU for many years. However, it was only within the past few years that Community Shares was also included at employee request because it offered access to organizations not supported by the United Way, Votruba and Luse shared.