Veggie soup with a side of meat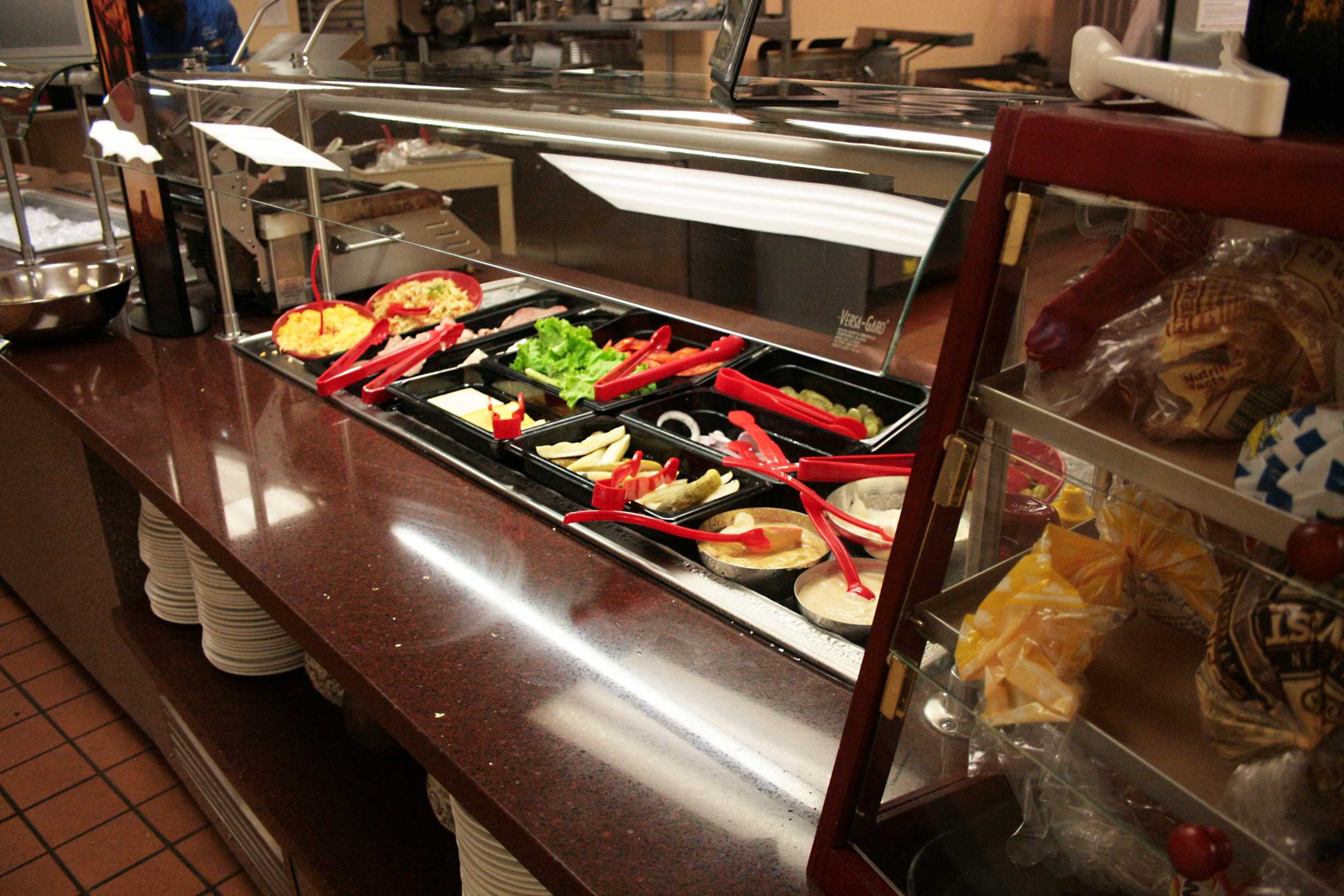 Vegetarian food served up by Chartwell\'s
Since 2005, Sierra Nitschke has not eaten any meats besides fish. Or, at least, that was what she thought. She recently discovered that many of the seemingly vegetarian soups she has eaten from Northern Kentucky University's dining service, Chartwells, are made with chicken and beef broths, and she complained to the organization prompting them to investigate their labeling.
'It was emotionally painful to find out I had unknowingly eaten meat. I felt angry and hurt,' Nitschke said. 'To have that happen is kind of devastating to a person who has devoted their life to avoiding meat products.'
Nitschke only discovered this problem after she asked a Steely Caffe worker about one of the soups, and the worker called the kitchen to find out. According to Nitschke, the worker then relayed the message to her that all soups are made with chicken or beef broths, prompting her to complain. However, it is not true that all soups contain meat bases, but some of the ones that Nitschke believed were vegetarian did.'
The soups offered by Chartwells are purchased prepackaged from Au Bon Pain, a national bakery chain. Many of the names of the soups do not indicate that they are made with meat.
The soups with names that do not indicate they contain meat base include: southwest vegetable, potato leek, tomato rice, potato cheese and broccoli cheddar, according to Au Bon Pain's Web site.
The food service company goes to great lengths to offer healthy vegetarian dishes at all its restaurants and stores and to make sure they are properly identified, according to John Ruppert, resident district manager for Chartwells.
'I think Chartwells has the responsibility to tell us what is in the food,' Nitschke said. 'We deserve to know if eggs are used, if it contains meat or meat-stock and whether it is gluten-free. Some of the responsibility lies with us, but we can't look at a soup or a sandwich and know what the bread or soup is made from. That is their responsibility.'
Ruppert said he agrees.
'If we are putting out a product 'hellip; we are going to identify it,' he said. 'We did check to make sure our operations were putting out the correct labels to inform our customers which soups do and do not contain meat broths.'
Several of the soups offered have similar names, such as old fashioned tomato and tomato rice; however, only the old fashioned tomato is vegetarian.
Ruppert said the labels are now 'double and triple-checked.'
In addition, Steely Caffe now offers a flip chart that features the soup of the day and includes nutrition facts and indicate whether the soup is vegetarian or contains common food allergens.
'There is a little flip chart they change each day now to show you what is in the soup, and that is great,' Nitschke said. 'I really appreciate them doing that.'
Janelle Craft, Chartwells' marketing director, said students are encouraged to ask if they have concerns about what is in a food product. She acknowledged that a staff member may not know the answer to the question right away, but they will work to find the answer for you.
Nitschke indicated the same.
'All the soups carry labels now, but only two or three are okay for vegetarians, and me, to eat,' she said. 'The servers give me mixed answers, but they always try to find out for me,'
Considering the limited number of vegetarian soups offered, Nitschke seeks to have more of them offered at locations throughout campus. She feels that a vegetarian soup should be offered each day, even if it is only at one of Chartwell's various campus food service locations.
'I know everyone can't be accommodated, but with the outstanding number of vegetarians on campus, I think we can have a vegetarian soup offered each day. That's what I ultimately want,' she said.
Ruppert indicated he is proud of the vegetarian offerings made by Chartwells and said they have been the result of supply and demand. Ruppert said that Chartwells has teamed up with NKU's wellness program to host 'Meatless Mondays' and to offer special vegetarian products that day.
In addition, Chartwells has added more vegetable offerings at its Fusions restaurant and opened Fresh Factor, featuring made-to-order salads. And every restaurant offers some kind of vegetarian dish each day, he said.
In addition, all foods created by Chartwells are now cooked using non-trans-fat oils despite the additional cost to the food service provider.
Nitschke said she was inspired to become a vegetarian in 2005 in an effort to promote her health.
'I became a vegetarian because the band AFI (whose members are all vegan or vegetarian) inspired me by talking about eating well and taking care of your body,' Nitschke said.