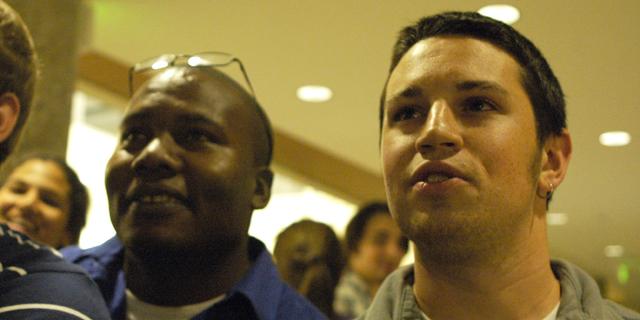 Mark Payne/Managing Editor
Well, it's official … finally. After one tainted election and a three-month wait for the re-election, K.Keith Kaseke and running mate Dennis Chaney won again.
This time they won the' SGA Fall Special Election by seven votes, the final tally being 323 to 316.'
Kaseke has many goals for SGA.
'I want to build the relationships that were broken throughout both the elections last semester and this semester.' I want to work very closely with the guys I ran against because they have done a lot for their school and I think together we can accomplish great things,' Kaseke said.'
Kaseke said he wants to make SGA visible.
' 'One of the things I ran across (during the campaign) was a lot of students asking what SGA does (and) what it is, so I really want to make sure that everybody knows what SGA does,' Kaseke said.'
Kaseke said he wants to work with the university to help make college more affordable.
'I know a couple people personally who might not be able to attend NKU because they just can't afford it,' Kaseke said.' 'I understand SGA doesn't have the authority to set the tuition, but we do have a voice and suggestions.'
Kaseke, an international student from Zimbabwe and former commuter who now lives in campus housing, considers himself 'approachable,' and wants students to know they can voice their concerns.
'One of the things I am going to implement starting right now is an open door policy,' Kaseke said. 'Anybody should feel free to come in and see their student representative. I want students to feel that I am one of them. I want us to have that kind of connection.'
Chaney is excited to win.
'Winning has been relieving,' Chaney said. 'Keith and I have been working at least 40 hours.' I've been baking cookies, putting together t-shirts, calling people and getting flyers distributed.' It has been a lot of work, but it was worth it." '
Chaney has some goals of his own for SGA. He said his new job will involve representing students' interests and being their watchdog. He added that he plans to attend 'as many faculty meetings as there are' to ensure that students' money is being spent wisely.
'I really want to see a lot more activity on campus, a lot more bands playing, more students hanging around and spending time here,' Chaney said. 'I would like a lot more students to be working on campus, I want the pool hours expanded, I want the sauna to be fixed and I want to see the beginnings of vertical-access wind turbines put on the tops of the buildings to harness some of this wind and use that energy for the students' benefit.'
Chaney said the bottom line for the new SGA staff is getting students to care. To do so, he promised weekly videos that will outline SGA activity and show students ways to be engaged on campus. These videos will be available on Facebook, YouTube, ICN18 and the TVs on campus.' '
'We want students to be connected to their campus and their student representatives that they sent to voice their opinions,' Chaney said.