Web Exclusive: Spark Notes on Textbook Pricing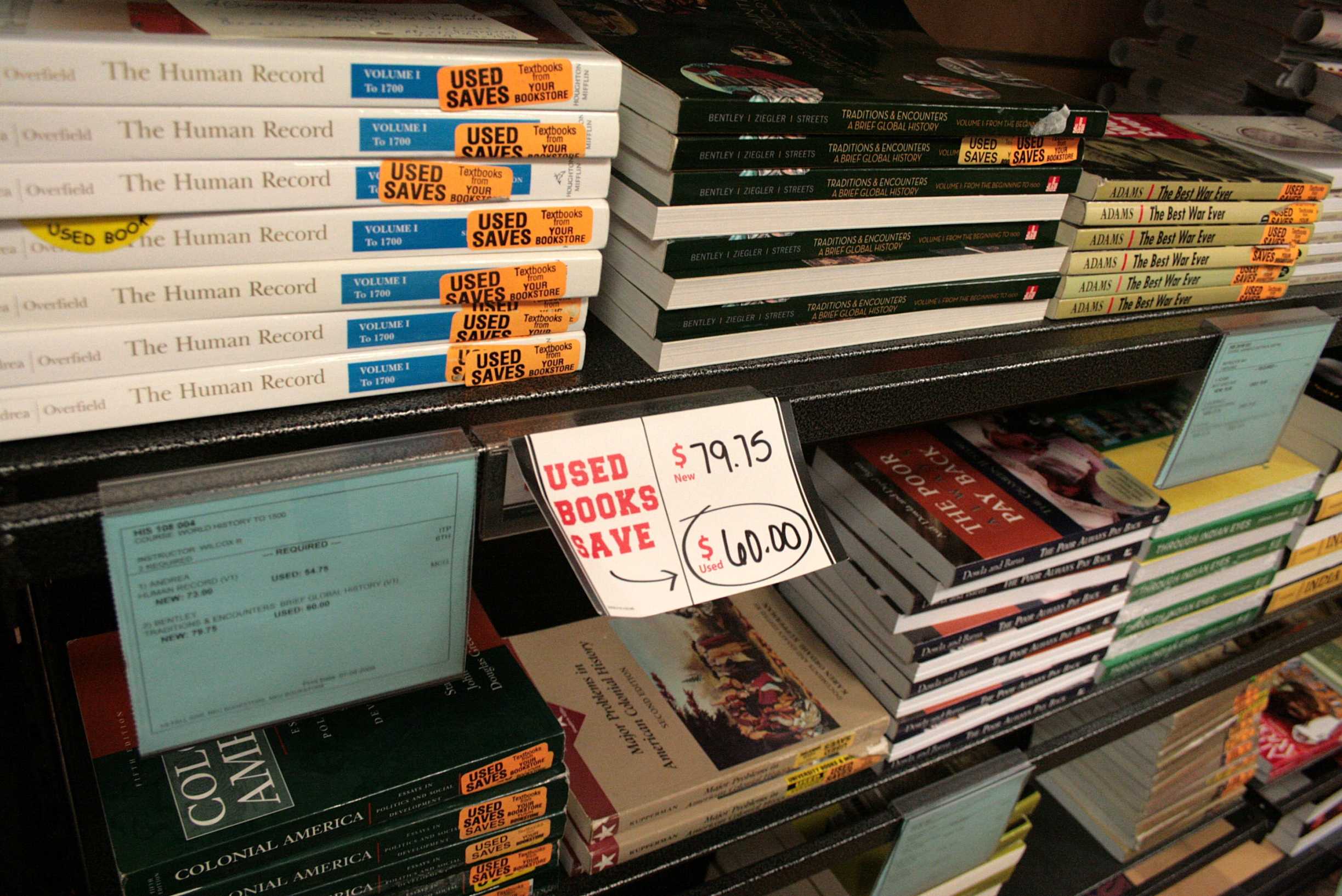 Charlotte Etherton
/
Photo Editor
According to a 2005 study by the Government Accountability Office, the price of textbooks in the United States rose 186 percent between 1986 and 2004.
'What difference has this made?' When textbook price increases are combined with the 7 percent average annual increase in tuition and fees over the same time period (GAO, 2005), this has caused the overall price of higher education to increase significantly and has posed serious financial problems for the students and parents who must meet these burgeoning costs,' according to Dr. James V. Koch's 2006 report entitled' An Economic Analysis of Textbook Pricing and Textbook Markets.
'These financial stresses have evidenced themselves in two ways.' First, over time, student access to higher education has declined and second, students have taken more time to complete their programs of study,' continues Dr. Koch's report. '
Considering how corporations that employ college students are cutting employee's hours, and the fact that many students have other expenses (i.e. gas, rent, insurance, etc.), how can a bookstore that caters to arguably the poorest class charge so much?
Also, when it comes to buying back texts, how can they (the bookstore) pay students so little?'
According to the GAO's July 2005 report College Textbooks Enhanced Offerings Appear to Drive Recent Price Increases, '[w]hile many factors affect textbook pricing, the increasing costs associated with developing products designed to accompany textbooks, such as CD-ROMs and other instructional supplements, best explain price increases in recent years.'
The GAO's report states '[p]ublishers say they have increased investments in developing supplements in response to demand from instructors." However the GAO's report includes the claim 'Wholesalers, retailers, and others expressed concern that the proliferation of supplements and more frequent revisions might unnecessarily increase costs to students." '
Elio Distaola, director of campus relations for Follet, a retailer and wholesale distributor of educational materials including college textbooks,' further explained, 'Textbook selling prices are determined by the cost from publishers and by the contract that Follett has with the college or university. New textbooks for which the publisher has a suggested selling price, i.e., a list price, are sold at that price. New books that have no list or preprinted price are sold at an agreed upon margin between the institution and Follett. In most on-campus bookstores, books are priced so the gross margin does not exceed 25 percent. Used textbooks are usually sold at a 25 percent discount from the selling price of the new book.'
Additionally, 'A textbook cost more than a general reading book because creating and publishing a textbook is more complex than writing and publishing a novel. The potential demand or audience for a textbook is generally very small. Many popular textbooks are published in small quantities whereas trade books are produced in higher volumes, reducing the cost per unit,' Distaola continued.
'Creating a textbook requires considerable time, effort and financial investment on the part of the author who must support the content with research and documentation. Textbooks are expensive to produce because they typically include color pictures, graphs, charts, formulas, and illustrations. Textbooks are also printed on high quality paper and bound with a durable binding," Distaola added.
Having established why buying textbooks at the NKU Bookstore can cost you an arm and leg, aside from selling blood, what can a college student do to offset the cost of textbooks?
'Follett will offer to pay 50 percent of what the student paid for books that have been readopted for use during a subsequent term as long as additional copies are needed for anticipated resale. Titles that are no longer readopted on a campus or those for which the store has sufficient inventory are purchased for textbook wholesalers who recycle them on other campuses,' Distaola said.
'Wholesale' prices are determined by supply and demand, i.e. how many other campuses are using the book and how many copies are currently in the wholesaler's inventory. 'Wholesale' prices range up to 30 percent of the retail price. Only current editions have resale value. A book that has been out-of-print or replaced by a new edition cannot be purchased by the store regardless of condition. ' ' In a nutshell'hellip; buyback prices are driven by faculty adoptions,' Distaola summed up.
One option is to buy slightly-used textbooks online at amazon.com.' This option works well if you don't need a workbook.' Students can also sell textbooks on amazon.com if they do not want to accept the NKU bookstore buy-back prices.' 'The typical student sells his/her book online for an average of 25 percent more than the campus bookstore buyback, according to CampusBooks log files,' states campusbooks.com
For those who want to go green, ebooks.com offers electronic, downloadable versions of most college textbooks.' Students can download books onto their computers, iPhones and other handheld devices.
Campusbooks.com is a price comparison Web site where students can find their textbooks.' According to its online FAQ page, after the student finds the correct textbook, he can select the 'compare prices' link to see pricing and inventory of the book, including tax and shipping, from several dozen of the top online bookstores.
Campusbooks.com also offers a buyback option to students 'CampusBooks works for students to help them sell back used textbooks.' Students can select the 'Sell this book' link to see list prices for their book on the CampusBooks Marketplace and the top buyback Web sites. Its FAQ page also says students can choose to list the book at their own price for sale on the Marketplace, or students can sell their book to a buyback Web site (if available).
Students may be interested to know that at CampusBooks.com, 'students save an average of 58 percent off the list price of their book (based on our comparison of the average retail price and the best price on CampusBooks).'