1 on 1 with Zaniello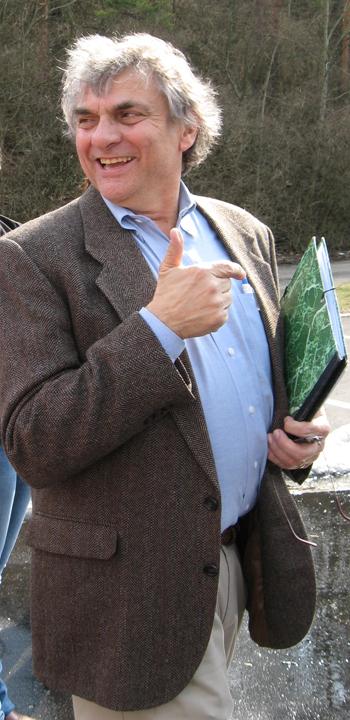 Dr. Tom Zaniello hadn't lived in a dormitory since he began his first semester of higher education at Tufts University in Boston. As though scripted from the beginning, he's been spending his final semester at Northern Kentucky University living in the fortress that is Callahan Hall. Dr. Zaniello will retire after the current semester and move to his new home in Washington, D.C. to be with his family, including his twin grandsons and his wife,' a retired NKU professor who taught English, honors, and womens studies courses.
The career-long English professor and longtime director of the Honors program has been with NKU since it first opened its Highland Heights campus in 1972, and will continue to contribute to the university by teaching an online course from his residence in Washington. He hopes to teach in an honors program at another college.
Having been at this campus since, literally, the first day of school, Dr. Zaniello has helped it grow from its infant stages to the busy adult that it is today.
Joe Castelli: You're from N.Y., your wife is from York, Pa., and you attended both Stanford, and Tufts in Boston. What brought you here to Highland Heights 37 years ago?
Dr. Zaniello: When I got my Ph.D. from Stanford, the job market for English teachers was in collapse. I probably would've preferred to go to the east coast, where I was born, or to try to stay in Calif., which I loved. But the job market said, 'English teachers: All over the country.' And I heard about this college in Northern Kentucky that was basically just starting up, and that anyone who came here would be involved in building the curriculum from virtually ground zero. So it was attractive. I've said a number of times I had never been farther west than York, Pa., which was where my wife is from, except for Calif., but I hadn't been anywhere in between. So it was a strange cultural challenge to come from the east coast to Ky., but after X number of years my kids went to local schools, we became part of the community, and, of course, NKU was always growing it was worthwhile doing.
JC: So the fact that NKU was just getting started was part of the appeal?
TZ: Yes, because we created a curriculum. I mean, virtually every course in the English department was created by one or another of us. The course, which I'm still teaching to this day, English 302: Literature and Film, in which I do Hitchcock, I created in the 1970s as part of developing courses with some film and literature components. So, we had an opportunity to create a curriculum, and you don't get that very often in American college teaching.
JC: What will you miss the most about NKU?
TZ: I think that having been here so long, I have a deep and strong network of colleagues and friends at NKU. We've been involved in numerous projects together, both faculty and staff, and, of course, students as well. We've done international study tours together. The Honors program has been a great unifying force for the eight faculty and staff as well as faculty and staff across campus. So I think I'm gonna miss what we built, and how much fun it has been in doing it.
JC: Do you have any regrets, or things that you wish you could've done differently?
TZ: I really have very few regrets. I mean, they're pretty minor. I think if I had stayed here longer, Honors maybe would've been more intensified in the departments, we might've been able to start some new partnerships with the departments. But these are things that the program can do without me. I have very few regrets. I mean, overall it's been an extremely positive experience.
JC: Do you have any particular vision of where you hope the Honors program will be in the future?
TZ: I hope there will be an Honors college. I think the model that we have done some preliminary study of is a dual-college model, that is to say, you are simultaneously in Arts and Sciences College and Honors, or Business and Honors. We've taken some steps toward this when we have partnerships with Education and Business, and to a certain extent with Arts and Sciences, but the time may be on hand when students would actually belong to an Honors College, as well as a disciplinary college. And the advantage of that is that the students' experience would be intensified in both areas.
JC: Has there been anything bad about NKU during your tenure?
TZ: Well, I think that as an administrator my teaching load has become much lighter, meaning that a typical administrator like me teaches one course a semester on average, and sometimes even some semesters, not teaching at all. I think the teaching load is a problem, especially for junior faculty. They're expected to teach four classes; they're expected to carry on a program of being active in their academic discipline. And I think I solved it when I was a junior faculty member, but I still think it's a heavy teaching load, and it would be ideal if we could figure out a good strategy for reducing it without raising class size, because that's typically how universities solve the faculty workload. They give 'em a section of 100 or 150 students. That's a kind of education, but it's not the ideal thing that we look for here. So trying to solve the teaching load while keeping small classes is a real nut to crack for the future.
JC: In addition to the online course, how will you still be a part of the NKU community?
TZ: You know, this is new territory. I mean, I've been at NKU for 37 years. I mean, I've been here a lifetime, so it's sort of hard to predict what the future will mean.
[The NKU community] has been obviously so dominant in my life. I think in the future I'd love to come back and teach a course. Maybe in a Winter session, which only lasts a week, or even an intercession. Nobody's invited me back yet.