Albright years spelled growth for NKU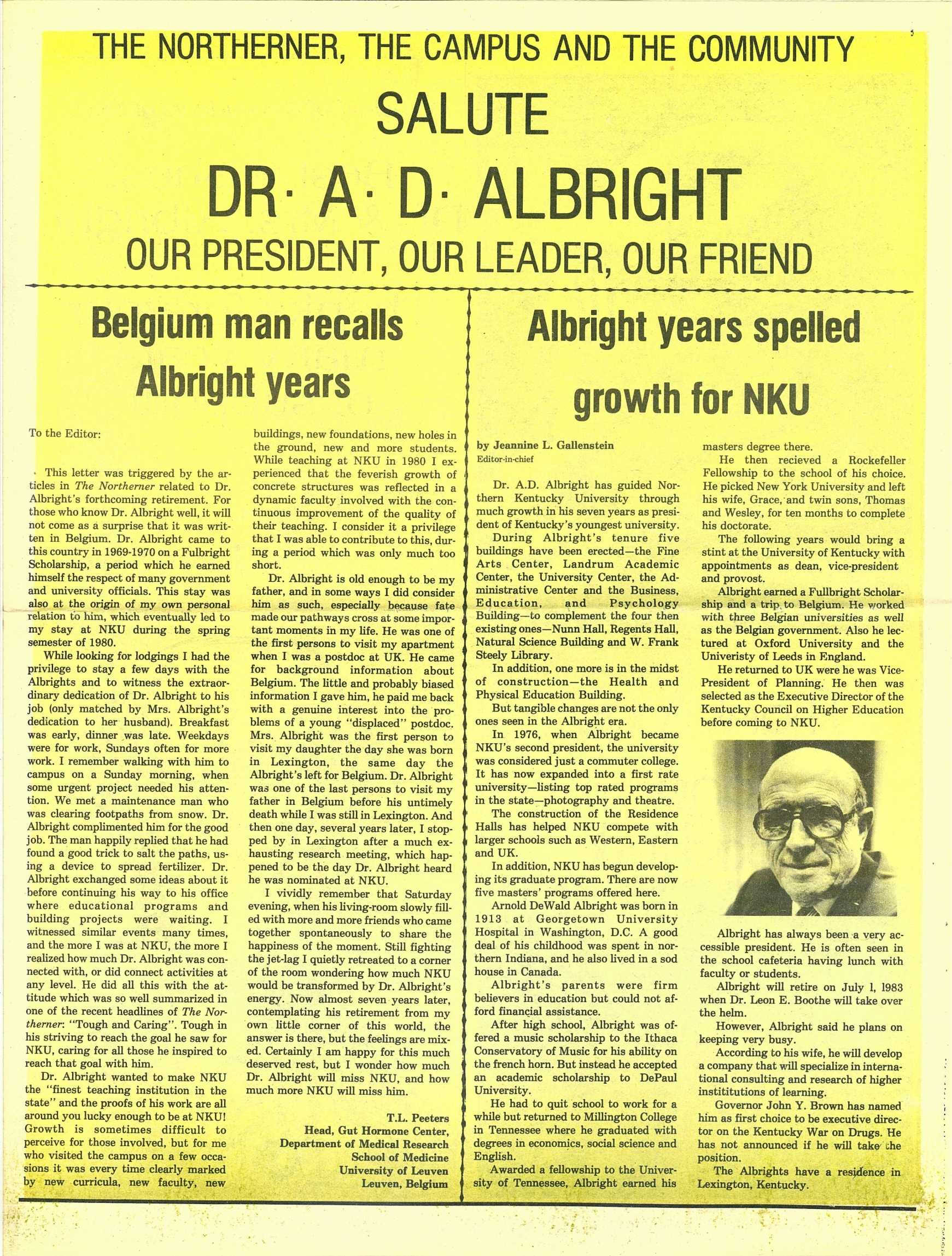 Dr. A.D. Albright has guided Northern Kentucky University through much growth in his seven years as president of Kentucky's youngest university.
During Albright's tenure five buildings have been erected-the Fine Arts Center, Landrum Academic Center, the University Center, the Administrative Center and the Business Education and Psychology Building-to complement the four then existing ones-Nunn Hall, Regents Hall, Natural Science Building and W. Frank Steely Library.
In addition, one more is in the midst of construction-the Health and Physical Education Building.
But tangible changes are not the only ones seen in the Albright era.
In 1976, when Albright became NKU's second president, the university was considered just a commuter college. It has now expanded into a first rate university-listing top rated programs in the state-photography and theatre.
The construction of the Residence Halls has helped NKU compete with larger schools such as Western, Eastern and UK.
In addition, NKU has begun developing its graduate program. There are now five masters' programs offered here.
Arnold DeWald Albright was born in 1913 at Georgetown University Hospital in Washington, D.C. A good deal of his childhood was spent in northern Indiana, and he also lived in a sod house in Canada.
Albright's parents were firm believers in education but could not afford financial assistance.
After high school, Albright was offered a music scholarship to the Ithaca Conservatory of Music for his ability on the French horn. But instead he accepted an academic scholarship to DePaul University.
He had to quit school to work for a while but returned to Millington College in Tennessee where he graduated with degrees in economics, social science and English.
Awarded a fellowship to the University of Tennessee, Albright earned his masters degree there.
He then received a Rockefeller Fellowship to the school of his choice. He picked New York University and left his wife, Grace, and twin sons, Thomas and Wesley, for ten months to complete his doctorate.
The following years would bring a stint at the University of Kentucky with appointments as dean, vice-president and provost.
Albright earned a Fullbright Scholarship and a trip to Belgium. He worked with three Belgian universities as well as the Belgian government. Also he lectured at Oxford University and the University of Leeds in England.
He returned to UK were he was Vice-President of Planning. He then was selected as the Executive Director of Kentucky Council on Higher Education before coming to NKU.
Albright has always been a very accessible president. He is often seen in the school cafeteria having lunch with faculty or students.
Albright will retire on July 1, 1983 when Dr. Leon E. Boothe will take over the helm.
However, Albright said he plans on keeping very busy.
According to his wife, he will develop a company that will specialize in international consulting and research of higher institutions of learning
Governor John Y. Brown has named him as first choice to be executive director on the Kentucky War on Drugs. He has not announced if he will take the position.
The Albrights have a residence in Lexington, Kentucky.
'