Albright takes command Part I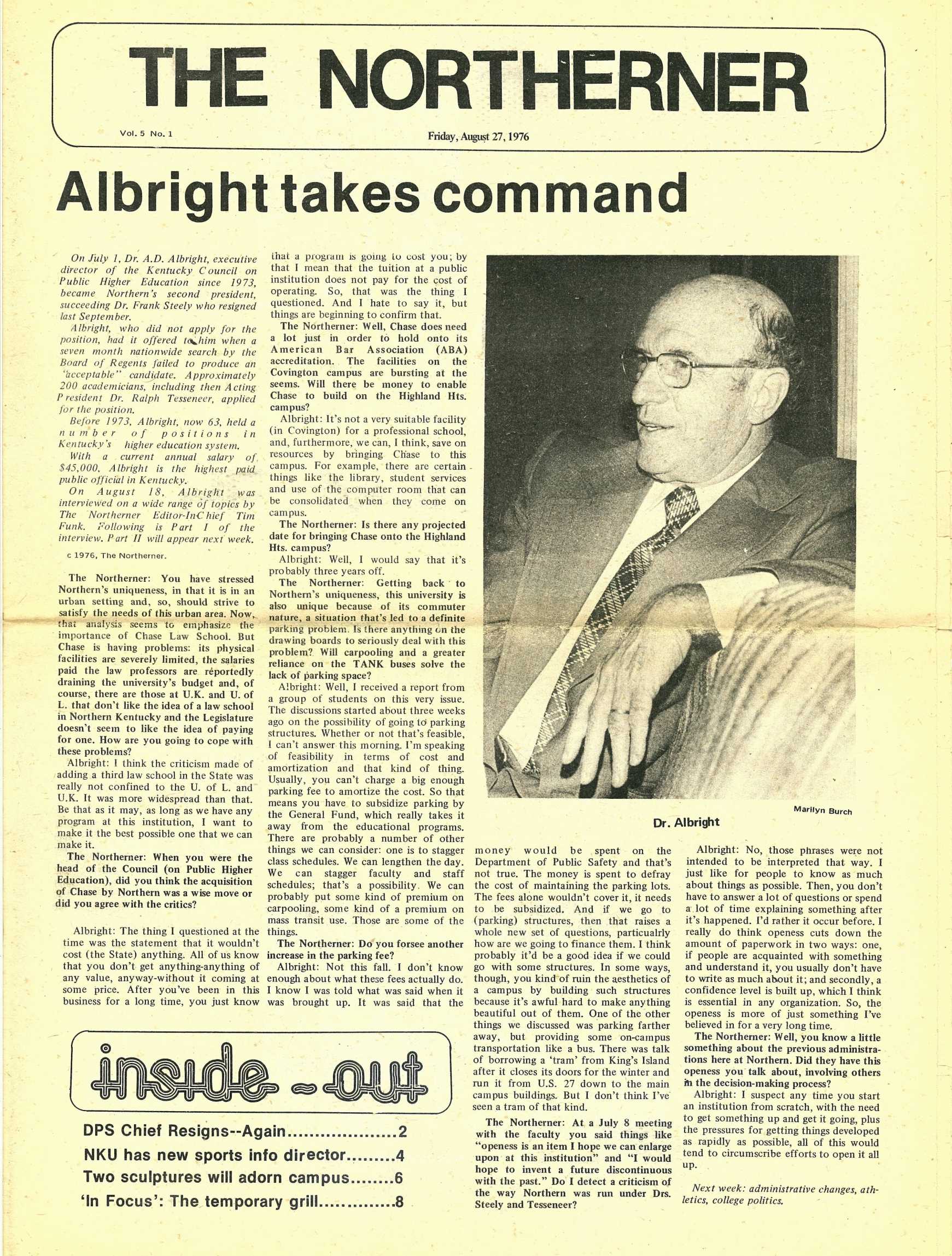 On July 1, Dr. Albright, executive director of the Kentucky Council on Public Higher Education since 1973, became Northern's second president, succeeding Dr. Frank Steely, who resigned last September.

Albright, who did not apply for the position, had it offered to him when a seven month nationwide search by the Board of Regents failed to produce an 'acceptable' candidate. Approximately 200 academicians, including then Acting President Dr. Ralph Tesseneer, applied for the position.

Before 1973, Albright, now 63, held a number of positions in Kentucky's higher education system.

With a current annual salary of $45,000, Albright is the highest paid public official in Ketucky.

On August 18, 1976, Albright was interviewed on a wide range of topics by The Northerner Editor-In-Chief Tim Funk. Following is Part I of the interview. Part II will appear next week.
The Northerner: You have stressed Northern's uniqueness, in that it is in an urban setting and, so, should drive to satisfy the needs of this urban area. Now, that analysis seems to emphasize the importance of Chase Law School. But Chase is having problems: its physical facilities are severely limited, the salaries paid the law professors are reportedly draining the university's budget and, of course, there are those at U.K. and U. of L. that don't like the idea of a law school in Northern Kentucky and the Legislature doesn't seem to like the idea of paying for one. How are you going to cope with these problems?
Albright: I think the criticism made of adding a third law school in the State was really not confined to the U. of L. and U.K. It was more widespread that that. Be that as it may, as long as we have any program at this institution, I want to make it the best possible one that we can make it.
The Northerner: When you were the head of the Council (on Higher Education), did you think the acquisition of Chase by Northern was a wise move or did you agree with the critics?
Albright: The thing I questioned at the time was the statement that it wouldn't cost (the State) anything. All of us know that you don't get anything-anything of value, anyway-without it coming at some price. After you've been in this business for a long time, you just know that a program is going to cost you; by that I mean that the tuition at a public institution does not pay for the cost of operating. So, that was the thing I questioned. And I hate to say it, but things are beginning to confirm that.
The Northerner: Well, Chase does need a lot just in order to hold onto its American Bar Association (ABA) accreditation. The facilities on the Covington campus are bursting at the seems. Will there be money to enable Chase to build on the Highland Hts. campus?
Albright: It's not a very suitable (in Convington) for a professional school, and, furthermore, we can, I think, save on resources by bringing Chase to this campus. For example, there are certain things like the library, student services and use of the computer room that can be consolidated when they come on campus.
The Northerner: Is there any projected date for bringing Chase onto the Highland Hts. campus?
Albright: Well, I would say that its probably three years off.
The Northerner: Getting back to Northern's uniqueness, this university is also unique because of its commuter nature, a situation that's led to a definite parking problem. Is there anything on the drawing boards to seriously deal with this problem? Will carpooling and a greater reliance on the TANK busses solve the lack of parking space?
Albright: Well, I received a report from a group of students on this very issue. The discussions started about three weeks ago on the possibility of going to parking structures. Whether or not that's feasible, I can't answer this morning. I'm speaking of feasibility in terms of cost and amortization and that kind of thing. Usually, you can't charge a big enough parking fee to amortize the cost. So that means you have to subsidize parking by the General Fund, which really takes it away from the educational programs. There are probably a number of other things we can consider: one is to stagger class schedules. We can lengthen the day. We can stagger faculty and staff schedules; that's a possibility. We can probably put some kind of premium on carpooling, some kind of premium on mass transit use. Those are some of the things.
The Northerner: Do you forsee another increase in the parking fee?
Albright: Not this fall. I don't know enough about what these fees actually do. I know I was told what was said when it was brought up. It was said that the money would be spent on the Department of Public Safety and that's not true. The money is spent to defray the cost of maintaining the parking lots. The fees alone wouldn't cover it, it needs to be subsidized. And if we go to (parking) structures, then that raises a whole new set of questions, particularly how are we going to finance them. I think probably it'd be a good idea if we could go with some structures. In some ways, though, you kind of ruin the aesthetics of a campus by building such structures because its awful hard to make anything beautiful out of them. One of the other things we discussed was parking farther away, but providing some on-campus transportation like a bus. There was talk of borrowing a 'train' from King's Island after it closes its door for the winter and run it from U.S. 27 down to the main campus buildings. But I don't think I've seen a tram of that kind.
The Northerner: At a July 8 meeting with the faculty you said things like 'openness is an item I hope we can enlarge upon at this institution' and 'I would hope to invent a future discontinuous with the past.' Do I detect a criticism of the way Northern was run under Drs. Steely and Tesseneer?
Albright: No, those phrases were not intended to be interpreted that way. I just like for people to know as much about things as possible. Then, you don't have to answer a lot of questions or spend a lot of time explaining something after it's happened. I'd rather it occur before. I really do think openness cuts down the amount of paperwork in two ways: one, if people are acquainted with something and understand it, you usually don't have to write as much about it; and secondly, a confidence level is built up, which I think is essential in any organization. So, the openness is more of just something I've believed in for a very long time.
The Northerner: Well, you know a little something about the previous administrations here at Northern. Did they have this openness you talk about, involving others in the decision-making process?
Albright: I suspect any time you start an institution from scratch, with the need to get something up and get it going, plus the pressures for getting things developed as rapidly as possible, all of this would tend to circumscribe efforts to open it all up.
'