Albright moves into campus house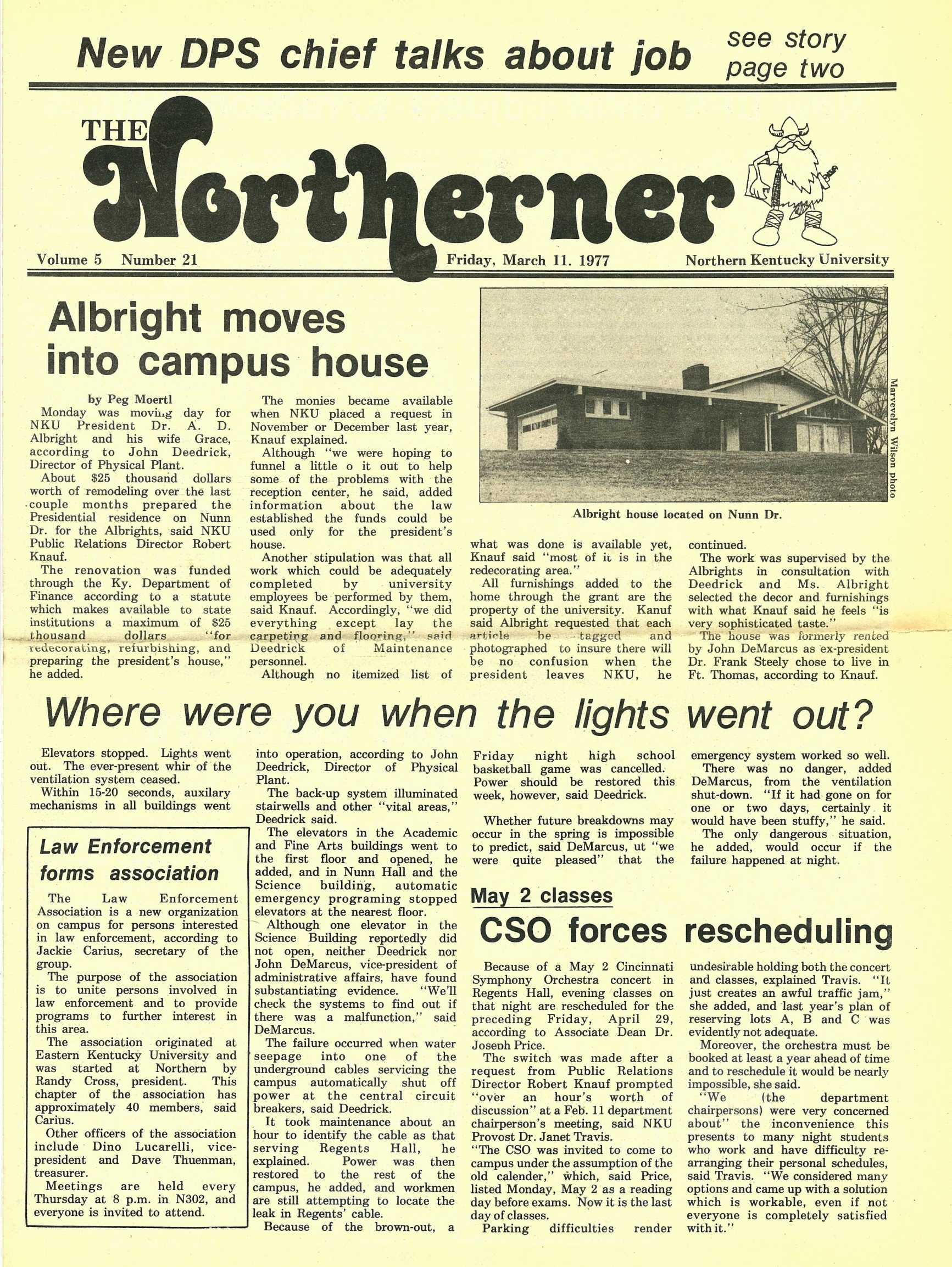 Monday was a moving day for NKU President Dr. A. D. Albright and his wife Grace, according to John Deedrick, Director of Physical Plant.
About $25 thousand dollars worth of remodeling over the last couple months prepared the Presidential residence on Nunn Dr. for the Albrights, said NKU Public Relations Director Robert Knauf.
The renovation was funded through the Ky. Department of Finance according to a statute, which makes available to state institutions a maximum of $25 thousand dollars 'for redecorating, refurbishing, and preparing the president's house,' he added.
The monies became available when NKU placed a request in November or December last year, Knauf explained.
Although, 'we were hoping to funnel a little o it out to help some of the problems with the reception center,' he said, added information about the law established the funds used only for the president's house.
Another stipulation was that all work which could be adequately completed by university employees be performed by them, said Knauf. Accordingly, 'we did everything except lay the carpeting and flooring,' said Deedrick of Maintenance personnel.
Although no itemized list of what was done is available yet, Knauf said 'most of it is in the redecorating area.'
All furnishings added to the home through a grant are property of the university. Knauf said Albright requested that each article be tagged and photographed to insure there will be no confusion when the president leaves NKU, he continued.
The work was supervised by the Albrights in consultation with Deedrick and Ms. Albright selected the d'eacute;cor and furnishings with what Knauf said he feels 'is very sophisticated taste.'
The house was formerly rented by John DeMarcus, as ex-president Dr. Frank Steely chose to live in Ft. Thomas, according to Knauf.
'