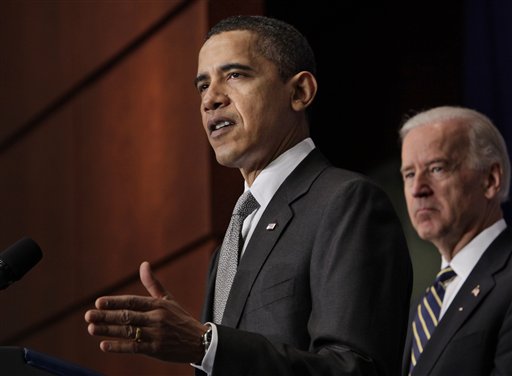 Associated Press
MOMBASA, Kenya (AP) – President Barack Obama vowed Monday 'to halt the rise of piracy,' while shipmates of the rescued American freighter captain called for tough action against Somali bandits who are preying on one of the world's busiest sea routes.
Obama appeared to move up the piracy issue on his agenda, saying the United States would work with nations elsewhere in the world.
'I want to be very clear that we are resolved to halt the rise of piracy in that region and to achieve that goal, we're going to have to continue to work with our partners to prevent future attacks,' Obama said at a Washington news conference.
The nighttime rescue operation of Richard Phillips won praise abroad but it was uncertain how far Obama wanted to go to engage the pirates.
The U.S. was considering options including adding Navy gunships along the Somali coastline and launching a campaign to disable pirate 'mother ships,' according to military officials who spoke on condition of anonymity because no decisions have been made.
Some military strategists believe it may ultimately be necessary to attack the pirates' bases on land in Somalia. But few international allies have the appetite for another land operation in Somalia, where a U.S. military foray in the early 1990s ended in humiliation. And the cost in civilian casualties would likely be extremely high, some warn.
'That would be nuts,' said Larry Johnson, a former CIA agent and State Department counterterrorism specialist. 'These people are not organized into any military force, they are intermingled with women and children. You're talking about wiping out villages.'
The chief mate aboard the US-flagged Maersk Alabama was among those urging strong U.S. action.
'It's time for us to step in and put an end to this crisis,' Shane Murphy said. 'It's a crisis. Wake up.'
In Burlington, Vt., Phillips' wife, Andrea Phillips made a tearful public appearance, her first since the Sunday rescue of her husband. She thanked Obama, who approved the dramatic sniper operation that killed the pirates holding him.
'You have no idea, but with Richard saved, you all just gave me the best Easter ever,' she said in a statement read by the family's spokeswoman.
On the other side of the world, the 19 crew members on the Alabama celebrated their skipper's freedom with beer and an evening barbecue in an area cordoned off from journalists, said crewman Ken Quinn, who ventured out holding a Tusker beer – a popular brew in Kenya, where the ship was docked.
New details emerged Monday about the standoff.
Fearing the pirates' lifeboat was approaching the Somali shore, where they could escape, the Bainbridge rammed it back out toward sea, said a spokesman for Vice Adm. Bill Gortney, commander of the Navy's Fifth Fleet. That happened before the Bainbridge put a tow line on the lifeboat to help it navigate the choppy sea.
The four pirates that attacked the Alabama were between 17 and 19 years old, Defense Secretary Robert Gates said.
'Untrained teenagers with heavy weapons,' Gates told a group of students and faculty at the Marine Corps War College. 'Everybody in the room knows the consequences of that.'
U.S. officials were now considering whether to bring the fourth pirate, who surrendered shortly before the sniper shootings, to the United States or possibly turn him over to Kenya. If he is brought to the U.S., he'd most likely be put on trial in New York or Washington.
Both piracy and hostage-taking carry life prison sentences under U.S. law.
That pirate had surrendered to seek medical attention. He was stabbed with an ice pick during a scuffle with the crew when the pirates initially tried to overtake the Alabama, a senior military official said.
The American ship had been carrying food aid bound for Rwanda, Somalia and Uganda when the ordeal began Wednesday hundreds of miles off Somalia's eastern coast. As the pirates clambered aboard and shot in the air, Phillips told his crew to lock themselves in a cabin and surrendered himself to safeguard his men.
Phillips was then taken hostage in an enclosed lifeboat that was soon shadowed by three U.S. warships and a helicopter. Navy SEAL snipers parachuted from their aircraft into the sea, and were picked up by the USS Bainbridge, a senior U.S. official said.
U.S. Defense officials said snipers got the go-ahead to fire after one pirate held an AK-47 close to Phillips' back. The military officials asked not to be named because they were not authorized to publicly discuss the case.
Snipers killed three pirates with single shots shortly after sailors on the Bainbridge saw the hostage-takers 'with their heads and shoulders exposed,' Gortney said.
It was not immediately known when or how Phillips would return home.
Pirates hold some 230 foreign sailors still held hostage in more than a dozen ships anchored off lawless Somalia.
Vilma de Guzman worried about her husband, one of 23 Filipino sailors held hostage since Nov. 10 on the chemical tanker MT Stolt Strength.
'The pirates might vent their anger on them,' she said. 'Those released are lucky, but what about those who remain captive?'
___