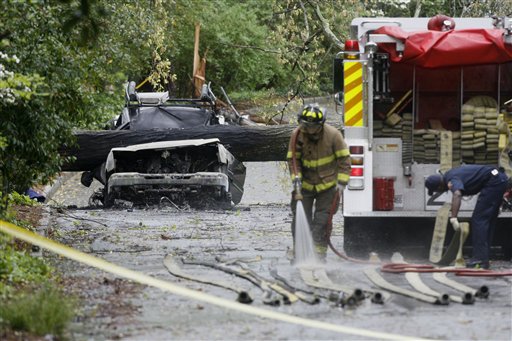 Associated Press
ATLANTA (AP) – A swath of severe weather moved across a storm-weary South on Monday, killing at least two, downing trees and cutting power to thousands of homes and businesses.
The storm system that hit Alabama, Tennessee, Georgia, Kentucky and northern Florida brought torrential rain, flooding, hail and gusty winds to states still reeling from strong storms and tornadoes last week.
And the states braced for more rough weather with tornado watches or warnings were in effect in several states Monday night.
In eastern Tennessee, McMinn County Sheriff Steve Frisbie said 18-year-old Michael Aaron Byers Jr. was killed in Etowah early Monday morning when a tree fell on his family's home as he slept. A tree fell on a car in Atlanta, killing a second person whose name was not immediately released.
In south Alabama, authorities said a possible tornado touched down in the Geneva County town of Slocomb, damaging a high school baseball field and blowing the roof off a barn.
Many areas that were spared from Monday's rain and hail were hit with high winds that blew over trees weakened by several days of soaking rain.
'The ground is so wet that the root system is loose, so it doesn't take a lot to blow the trees over,' said Nate Mayes, a meteorologist with the National Weather Service in Peachtree City, Ga.
High winds on the Tennessee River in northern Alabama blew the roof off covered boat slips at the Guntersville Yacht Club, causing floating docks to pull apart and blow onto U.S. 431, said Anita McBurnett, emergency management director for Marshall County.
No one was injured, but four people who live on big sailboats and yachts stored at the marina had to be rescued after their vessels blew into the river during the storm, McBurnett said.
'It's right on the heels of the tornado on Friday, so we've really got our hands full,' she said.
Some schools were closed in Alabama after crews were unable to get power back on for the buildings.
In Florida, strong weather downed trees, temporarily closed some streets and put flood recovery and damage assessment efforts from prior storms on hold in north Florida and the Panhandle.
Officials were worried thunderstorms that produced high winds, hail and downpours would endanger emergency management crews and cause rivers to rise again.
'Most of the rivers remain at or near flood stage,' state emergency management spokesman Mike Stone said.
Radar indicated a twister west of Tallahassee, but National Weather Service officials were not immediately able to confirm it was a tornado and had received no damage reports.
Despite the additional rainfall, U.S. Highway 90 was reopened after being closed for five days at the Suwannee River about 65 miles east of Tallahassee, but officials were keeping an eye on U.S. 27 farther downstream near Branford, Stone said.
Flooding in Florida claimed two lives in late March in the Panhandle's Okaloosa County, and a third person – an elderly man – was still missing after he was swept away by flood waters.