Men's golf treasures lost Jewell in G'town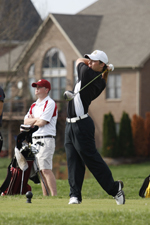 The Northerner
The Northern Kentucky University Men's Golf team finished 11th among a 20-team pool in The Jewell at Cherry Blossom Golf Course in Georgetown, Ky., April 4-5; a tournament with sentimental meaning for the Norse.
'(The tournament) is named after Andrew Jewell, who was a player on our team that died last year,' Head Coach Daryl Landrum said after the outing.
The team finished 13-over-par at 589 (301-288), while Ferris State University (Michigan) won the event with an 11-under-par 565 (285-280).
Landrum said that the nature of the outing may have been the reason for the teams performance.
'I was pretty disappointed but I think the guys put a lot of pressure on themselves,' he explained. 'The anniversary of (Jewell's) death was on (April 2). There was a lot of other stuff going on in their heads.'
Sophomore Danny Lewis shot a Norse best one-under-par 143 (74-69) and tied for 14th place with two other golfers.
The NKU Women's Golf team, however, fared better in its most recent outing, finishing second out of six teams in the Bellarmine Intercollegiate at Permission Ridge Golf Course in Louisville, Ky., March 30-31.
The team finished just shy of University of Indiana, losing by three strokes and finishing at 650 (323-327). Senior Alicia Stauffacher led the Norse at 13-over-par (81-76) to finish second individually in the event.
The women's team wrapped up the Grand Canyon Invitational in Goodyear, Az., April 7, and the men's team will compete in the Great Lakes Valley Conference Championships April 9-10 in Columbus, Ind.
'Obviously, my expectation is to win,' Landrum said. 'But we're not the favorite, Indianapolis is.'