Men's basketball extend wining streak to ten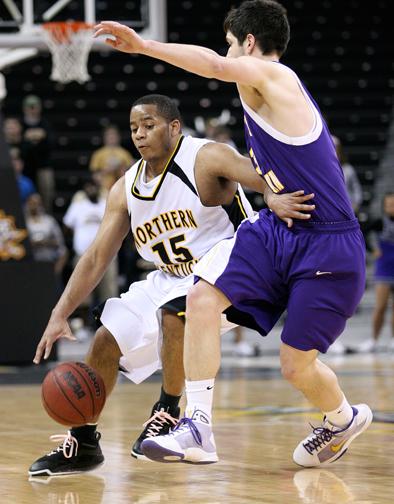 Tom Miller
The Northern Kentucky University Men's Basketball team extended their winning streak to ten games with an 80-67 victory over Ky. Wesleyan on Feb. 14.
The No. 4-nationally ranked Norse (19-4, 12-2 Great Lakes Valley Conference) posted an impressive 49.1 percent shooting percentage and saw five NKU players in double-digit points in the home contest.
Senior forward Leslie Malone led the Norse in scoring, with 19 points on 7-for-13 shooting from the field, and tabbed two blocks in a performance that earned him Great Lakes Valley Conference Player of the Week honors.'
Fellow senior forwards DeAaron Williams and A'Daeron Duncan contributed 17 and 14 points, respectively, while junior guard Scott Bibbins and sophomore guard Dustin Maguire each added ten points.
With the win, the Norse are enjoying their longest winning streak since 2002 '- when the team opened the season with a 10-0 record '- and improved to a two and a half game lead in the GLVC East Division standings.
Moreover '- with some help Quincy, who played heartbreakers to Southern Indiana, with a Valentines Day upset over the Screaming Eagles 74-71 '- the Norse have found themselves positioned to host the GLVC tournament March 6-8.
NKU will look to win their eleventh consecutive contest and remain undefeated at home as they host Wisconsin-Parkside as part of a senior night double-header with the women's basketball team on Feb. 18.
The Norse cruised by the Rangers 75-57 when the two teams last met, on Jan. 31, after rallying from a four-point second-half deficit with better than 70 percent shooting from the field and a 21-2 run.
Maguire led NKU in scoring with 17 points on the night and was joined by three other Norse players to put double-figures on the board.
Bibbins, who sparked the NKU offensive showcase with by sinking 3-pointer with a little more than 15 minutes left in regulation, added 14 points of his own and dished out five assists. Malone and Williams combined for 22 points and 11 rebounds.
Wisconsin-Parkside, who entered the last meeting with the Norse on a two-game losing streak, have lost the four contests since, being outscored by more than a 20-point average margin. NKU, on the other hand, are the hottest team in the GLVC and will have the luxury of home-court advantage; a luxury which has treated the Norse well thus far.
Tip-off for the women's game is scheduled for 5:30 p.m. with the men's matchup following at 7:45p.m.' The first 500 NKU students in attendance will receive free stadium cups and one student will have the opportunity to win up to $3,000 in tuition at the end of the event.