Snow Daze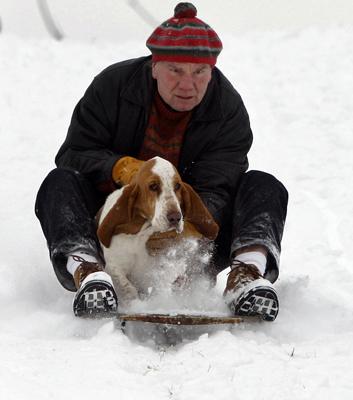 Associated Press
A week after ice and snow hit the state of Kentucky, another sweep of snow has hit the Tri-State, as Northern Kentucky University closed at 6 p.m. Feb. 3 due to the inclement weather.
The Student Government Association rally to Frankfort, to discuss the budget issues was postponed also due to the weather. At time of publication, there had been no word on a new date.
The powerful storm, blamed or suspected in at least 56 deaths, across several states, has left a trail of grief from the Ozarks to the Appalachians. Some, died from hypothermia, others in traffic accidents or from carbon monoxide poisoning caused primarily by improperly ventilated propane and kerosene heaters. Twenty-five of the deaths were in Kentucky, the state hardest hit by the arctic blast that crusted roads, trees, buildings and power lines with up to nearly an inch of ice before sending temperatures plummeting.
At its height, the storm knocked out power to 1.3 million customers from the Southern Plains to the East Coast, more than 700,000 of them in Kentucky, a state record. By Feb. 1, with moderating temperatures, the figure had dropped to nearly half that across Kentucky, with scattered outages in other states. By Tuesday however, the figure was still around 300,000, a week after the storm.
More snow fell across portions of the state on Tuesday and temperatures were expected to drop in the afternoon to around 20 degrees, according to the National Weather Service in Louisville. Some areas were forecast to get up to three inches of snow.
A warming trend was expected later in the week, with highs on Feb. 5 expected to be in the upper 30s and highs on Feb. 6 in the lower 50s.
Thomas Lacy, 84 of White Plains is among at least five Kentuckians confirmed to have died from hypothermia. Jennifer Powell, 37, of Monticello, died of hypothermia after her vehicle slid off a slick highway and overturned into a creek. Margaret King, 74, of Radcliff, died after losing power to her mobile home, and a 62-year-old woman died in Boyd County after wandering from home.
One of the latest hypothermia victims was a 70-year-old man found unresponsive by his sister last Wednesday in his Murray apartment, which had no power, said Calloway County Deputy Coroner Ricky Garland. The man was resuscitated but died Monday at a Murray hospital, Garland said.
The storm prompted Gov. Steve Beshear to call out all Army National Guardsmen and some Air National guard troops.
They have been going door-to-door handing out food and water to people reeling from what Beshear called the biggest natural disaster ever to hit the state.
That canvassing came four days too late for Lacy. His situation reflects the importance of the National Guard's mission.
'The wellness checks are very important,' said Master Sgt. Paul Mouilleseaux. 'The Kentucky National Guard is about saving lives.'
Meanwhile, the number of people in emergency shelters was still rising Tuesday.
State Division of Emergency Management spokesman Buddy Rogers said there were about 7,844 people staying at 135 shelters statewide at the latest count. A few days ago that number was around 6,400 people in about 210 shelters, he said.
On Feb. 2, Beshear asked President Barack Obama for a 'major disaster' declaration that would reimburse Kentucky 100 percent of the cost of rescue efforts during the first seven days after the storm. Damage estimates for state and local governments were already at $45 million and expected to rise, Beshear said.
Bower and her parents, who live in Greenville, went to White Plains to try to persuade Lacy to join them at her home an hour and half away in Campbellsville. When they arrived, another relative had gotten there and had discovered Lacy's body.
Grieving relatives said Lacy, a lifelong bachelor without any children, had become increasingly feeble in recent years and walked with a cane. Sister-in-law Dorothy Lacy, 86, of Greenville, said several relatives visited frequently to check on him, enjoying the company of a man who did so much for others over the years, including making lap robes for elderly nursing home residents.
'He was such a sweetheart,' Dorothy Lacy said. 'He was so good to people.'