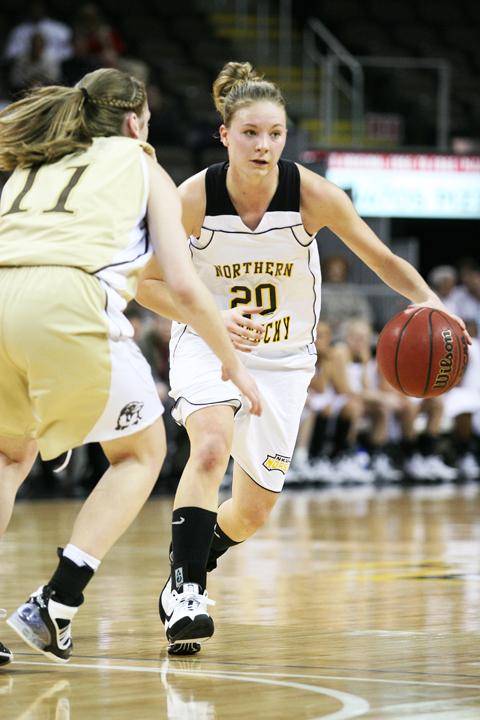 Tom Miller
The Northern Kentucky University Women's Basketball team suffered its first loss of the season at the hands of Great Lakes Valley Conference rival Quincy University on Jan. 24.
The 66-57 loss to their Hawk guests ended the Norse's 22-game winning streak and was the team's first home loss in over a year. NKU hasn't lost a non-exhibition game in front of a Highland Heights crowd since losing to Drury 55-52 on Jan. 5, 2008, in Regents Hall.The loss came on a night on which both teams experienced less than stellar shooting performances.' The Norse (16-1, 8-1 GLVC) shot just 33 percent and the Hawks (16-3, 8-1 in GLVC) shot only 29 percent on the night.
NKU senior guard Jessie Slack and junior forward Brandi Rayburn each contributed 15 points while playing fewer minutes than usual as both Norse standouts found themselves in foul trouble early in the first half. Rayburn also grabbed nine rebounds, one shy of recording her fifth double-double on the year.
Nancy Winstel, NKU's head coach, paid a compliment to Quincy after the contest.
'There are no excuses from our end, because we were beaten by a better team,' Winstel said, according to NKU Sports Information. 'Quincy just took it to us. They made a lot of plays, found a number of openings and forced us to foul them because we could not guard them. All of us, my players, my staff and I have to take a long look at this and try to learn from it. Quincy is very good and deserved to win this game.'
Quincy senior guard Jessica Keller gave the Hawks a solid performance, pouring in 26 points to help Quincy defeat the top Division II women's program in the nation.
The difference in the game was decided at the free throw stripe, a place where many games can be won or lost.' Quincy went to the line 30 times in the game and took care of business, hitting 26 of 30 free throws.' The Norse were only able to sink seven of 12 attempts from the stripe.
'Every team guns for us, so all we can do is learn from it,' said Slack told NKU Sports Information.' 'We earned (the loss).'
The Norse will try to bounce back when they travel to Romeoville, Ill. to face GLVC opponent Lewis University (9-9, 5-4 in GLVC) on Jan. 29 at Neil Carey Arena.
NKU will have to prepare for Flyers sophomore guard Jenny Turpel, who is averaging 18.3 points per game, and freshman forward Devon Carbaugh, who is averaging 11.7 points per game.' Turpel leads the Flyers in the turnover category with 63 on the year, according to the Lewis Season Statistic Board.' If NKU can force her to turn the ball over, they will leave Romeoville with a victory.
Tip-off is scheduled for' 6:30 p.m.