SGA to rally in capital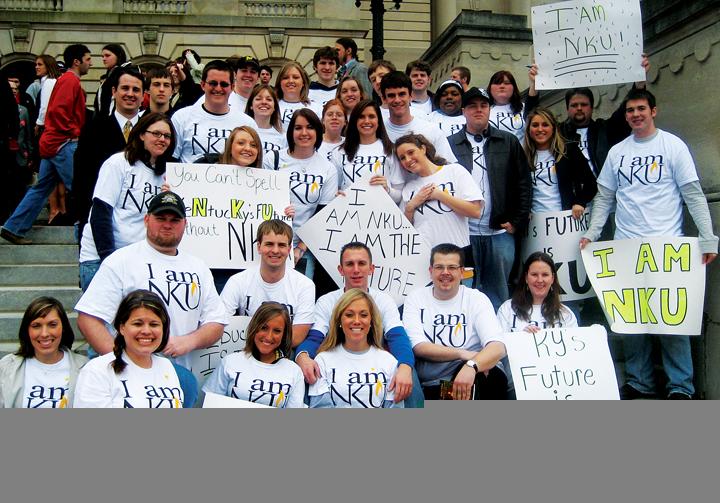 Northerner Archive
The Student Government Association will travel to the Rally for Higher Education in Frankfort, Ky., Feb. 3 to fight for more funding.
'(The rally) means that we will have a hand in the future of our university as a state institution,' said Gabe Cronon, president of SGA.
With Kentucky legislature meeting on Feb. 2, Cronon stressed the importance of students getting involved in the rally.
'It is a massive visual message for (the legislators) to see so many college students from across the state that care about their education,' Cronon said.
'This message is defined in the faces of the students that stand up and have a voice in their future.'
The theme of the rally is Stable Funding = Stable Future. The Kentucky Board of Student Body Presidents has been working on the theme since May 2008. It serves to emphasize higher education funding as a priority, even though the economy is not at its best.
Students can expect group effort work for higher education as a whole. Rather than individual universities, the rally will focus on Kentucky higher education.
For NKU, the rally has been a tradition for years. SGA members have kept the tradition alive and attend the rally annually.
During the 2008 rally, SGA lobbied for NKU during the tuition and budget planning process.
'The pride that NKU students have for their university was reflected in every student's enthusiasm at the rally,' said Melissa Koppenhoefer, SGA executive vice president.
This year, SGA's goal is to increase NKU's visual appearance at the rally and successfully represent the university to the legislature.
'I'm looking forward to this year's rally focusing on all eight institutions and making this year more impactful than last,' Koppenhoefer said.
This trip to Frankfort is mandatory for the SGA officers and committee chairs, and the senate is strongly encouraged to attend the rally.
NKU students who are not members of SGA are welcome to go on the trip.
Students who go will receive an excused absence request document to attend the rally.
However, it is up to the individual professor to accept the letter according to his or her attendance policy.
All who attend the rally will meet at 10 a.m. Feb. 3 in Student Union Room 109′ for a pre-departure briefing.
The NKU bus will leave for Frankfort by 10:30 a.m. and will return to NKU's campus no later than 4:30 p.m.