Women eek out victory over Drury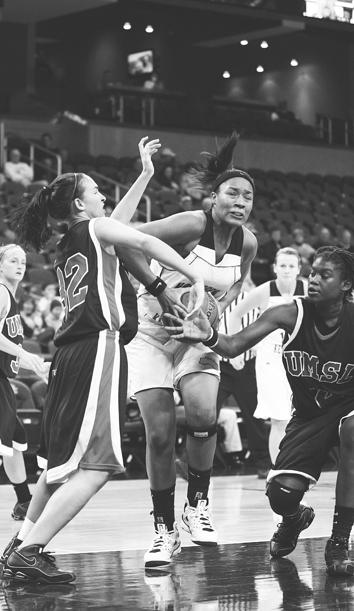 The Northern Kentucky University Women's Basketball Team remains undefeated after routing Rockhurst, on Jan. 15, and squeezing by Drury for an overtime win, on Jan. 17 '- both wins came on the road.
In the first contest, the top-ranked Norse (15-0, 7-0 in the Great Lakes Valley Conference) were far from modest guests, posting a 71-47 victory over their host, Rockhurst (8-9, 2-5 GLVC).
Jessie Slack led the Norse scoring with 17 points on the night, and Brandi Rayburn added 16 points and eight rebounds.
The latter of the two weekend match-ups resulted in much less of an unbalanced final margin. Drury, the last team to defeat NKU, on March 9, became the first team to send NKU into overtime play this season although the Norse went into halftime with a 12-point lead and lead by as many as 15-points during the second half. The Greyhounds took over the lead with less than three minutes of regulation remaining. However '- as the story often is '- the Norse rallied late in the half and eventually came out on top in the end, tabbing their 21st consecutive win dating back to the 2007-2008 season. The national championship season, that is.
With a final score of 65-63, the contest became only the third to be decided by less than ten points for the Norse. NKU knocked returned home from Indianapolis after defeating the Greyhounds, in the Norse's first conference game of the season, by a score of 56-54′ on Dec. 4, and left Louisville with a 60-53 win over fellow GLVC team Bellarmine on Jan. 2.
Slack recorded twenty points and seven rebounds on the night to become the leading Norse scorer two games in a row, and Rayburn contributed a double-double performance with 14 points and 14 rebounds.
NKU will return play to Highland Heights for a two-game home stint when they host GVLC West teams Missouri S&T, on Jan. 22,' and Quincy on Jan. 24. Missouri S&T (8-7, 2-5 GLVC) is coming off a loss to Indianapolis, and Quincy (14-3, 6-1) is currently on a four-game winning streak but will also meet Indianapolis before their visit to the Bank of Kentucky Center.
Tip-off for the Missouri S&T game is scheduled for 5:30 PM and is part of a double-header with the men's programs of each university. NKU defeated Missouri S&T by a score of 83-66 in neutral territory when the two teams last met, in the regional championship game of the 2008 NCAA Division II tournament, on March 17.