Monster Trucks invade BOKC
Michael Grote, Michael Grote, and Michael Grote
January 19, 2009
Filed under News
Hang on for a minute...we're trying to find some more stories you might like.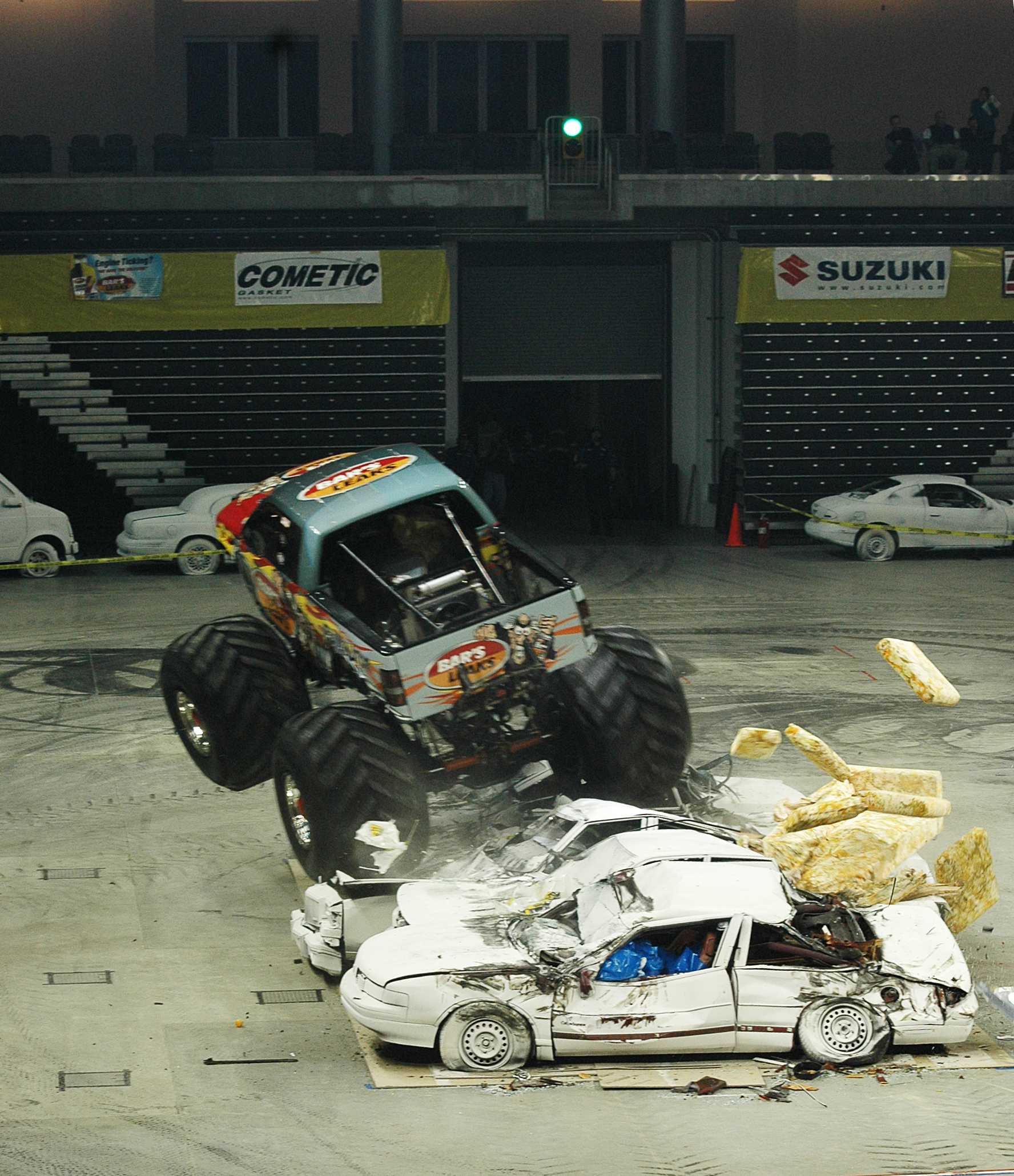 Democracy was in full force Jan. 16 and 17 as fans voted for their favorites at the Bank of Kentucky Center for the Monster Truck Nationals. Trucks, motocross bikes and mini-trucks competed in various events that electrified the crowd of all ages–filling the arena with the smell of diesel fuel, smoke and burnt rubber.
'It really hasn't changed much since I saw it in the mid '80's'hellip;it's just like I remember it as a kid," Director of Marketing for the Bank of Kentucky Center Kevin Contardo said.
He added that there is a thrill in it, because people love to see destruction and things being wrecked and crashed.
The event began with a wheelie contest between five monster trucks named 'Big Dawg', 'Bounty Hunter', 'Eliminator', 'Sampson' and 'TailGator.' The 1500 horsepower trucks approached a line of five white junk cars and proceeded to see who could go straight up and down the best. The crowd cheered for their favorites, and 'Eliminator' took the first victory.
The mini-trucks were up next with a replica of 'General Lee' from the 'Dukes of Hazzard', a replica of the character 'Mater' from 'Cars," ' a trucks named 'Bad Bones' and the Monster Truck Nationals official truck. The trucks raced a series of laps around some junk cars and even spun out of control a few times. Much to the delight of 'Dukes of Hazzard' fans in the audience,' 'General Lee' won.
The monster trucks then competed in a 'Wal-Mart parking lot donut contest,' – a celebration of the tradition of some people to do donuts in a Wal-Mart parking lot when the first snow falls.' Each truck took their turn burning rubber and creating smoke to entertain while spinning in circles. 'TailGator,' the 2008 Monster Truck Nationals champion, destroyed the competition as the fans did the gator chomp in it's honor.
According to Contardo, to clean up the mess left over, 'they [Monster Truck Nationals crew members] put down Coke Zero and punch three or four holes in the bottom of the can and sprinkle it all over the floor. When it comes time to clean it up, it supposedly makes the rubber very gelatinous and it comes right up.'
Winner of the Furniture Fair Ugliest Couch Contest,community member Liz Lilly , had the honor of witnessing her old couch, which even had mirrors on it, be destroyed by the monster trucks during their freestyle event. 'Eliminator,' driven by Greg Adams for the first time in five months, was the first truck to smash Lilly's couch, as well as the hood of one of the cars. 'It was pretty ugly'hellip;I had never seen a couch that had mirrors on it,' Contardo said.
Tim Bocca and Cody Cavanaugh entertained the crowd with their motocross bikes after a brief intermission. Each driver sped their bikes up a ramp and took turns doing tricks such as: putting their feet on the handlebars, leaping' their bikes without using their hands and performing handstands on their bikes. Cavanaugh experienced a rough landing on his first attempt to perform a 360 degree flip in midair, but performed the trick perfectly two more times.
The final event was a race between monster trucks. Whoever could clear the junk cars in the quickest time would move on to the next round. 'Bounty Hunter' and 'Sampson' started off the competition, with 'Bounty Hunter' moving on with an impressive 2.12 seconds. 'Big Dawg' defeated 'Eliminator' and then defeated 'Bounty Hunter' in the next round. 'TailGator,' who qualified with a 1.95 seconds, beat 'Sampson' to advance to the finals. The final event between 'TailGator' and 'Big Dawg' had the crowd in a fury of excitement as they sang along to Queen's 'We Will Rock You.' 'TailGator' jumped the cars to victory as engines roared and tires squealed.
The driver of 'TailGator', Doug Noelke, an electrician by week and monster truck driver by weekend, said he has spent plenty of money on his trucks and has made the trucks an entire family project. He named them 'Big Dawg,' the nickname he had in his high school band, and 'TailGator," because Noelke enjoyed tailgating at pro-football games.
Noelke joked that his weekend life sometimes affects his driving during the week with his company van.
'Sometimes I drive that (the van) like I'm in the other one (the monster truck),' he said.
Noelke said that the best part of driving monster trucks is 'meeting all of the kids and having an effect on their little lives and seeing their eyes light up.'
Contardo projects that this will be an annual event at the BOKC.
'The crowd obviously wants – there's still a hunger, still a market for it.'