Norse sink UMSL Tritons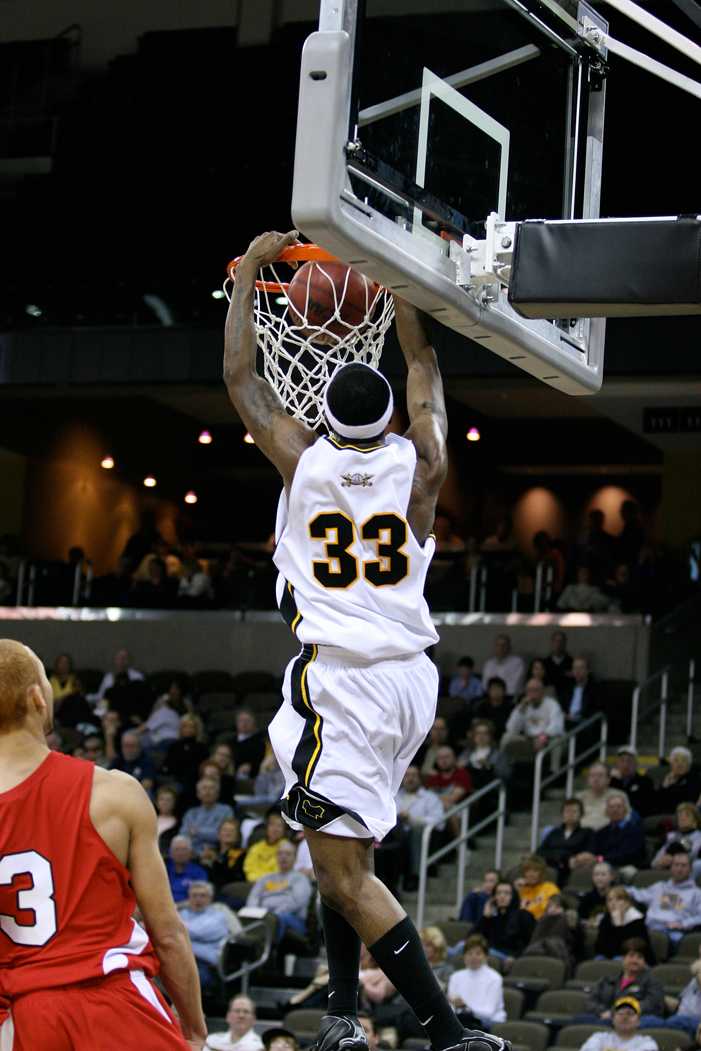 Tom Miller
Northern Kentucky University Men's Basketball Team defeated Great Lakes Valley Conference rival University of Missouri-St. Louis, 69-62 at The Bank of Kentucky Center on Jan. 10.
The Norse struggled to find their rhythm on offense early in the game due to a quick UMSL defense.' The Tritons did not allow NKU to push the ball up the floor.' They held the Norse to just 2-for-11 from three point range in the first half.' The Norse attempted three free throws in the first half , because they were unable to get the type of penetration they needed to draw more fouls against UMSL.
'It didn't look pretty for a long time, but in those games you've just got to be able to grind it out and find a way to win and we were able to today,' NKU Head Coach Dave Bezold said.
The Norse picked up the intensity in the second half.' Offensively, they did a better job at cutting and slashing to the rim. Defensively, they held the Tritons to 29 percent from the three point line in the second half.' Free throws were pivotal for the Norse in the victory.' They made 16-for-19 free throws in the second half which helped them secure the win.
'We all did a good job of cutting hard and getting some penetration going towards the basket,' said Dustin Maguire, sophomore guard for the Norse.' As we started to do that, their defense broke down a little bit.'
Maguire and senior forward A' Daeron Duncan played a large role in the win for the Norse.' Maguire led all scorers in the game with 20 and Duncan contributed 16 points for NKU.' The two provided the offense when their team needed it the most.' Their leadership helped the Norse grind it out for the win.
'You need you're 'A' players to step up and make plays,' Bezold said.' 'I felt like Dustin is a guy who's been there most of the time consistently on offense for us and A' Daeron has been able to provide us a lot of energy and in that second half he really did.'
NKU (10-4, 3-2 in GLVC) will travel to Kansas City, Mo., to battle GLVC foe, Rockhurst (8-5, 4-1) in GLVC) at 8:30pm Jan. 15 at Mason-Halpin Fieldhouse.' The Norse will have to deal with the Hawk's roster that is full of size and length as they have nine players that are taller than 6 feet 5 inches.' NKU has just two players taller than 6 feet 5 inches in 6-foot-8-inch junior center Brad Hosler, and 6-feet-8-inch senior forward Leslie Malone.' Rockhurst could potentially cause some matchup problems for the Norse.'
The Hawks junior guard Aaron Hill will have to be a point of emphasis for NKU on the defensive side of the ball.' Hill, a 6-foot-1-inch guard out of Canton, Mo., is averaging 21 points per game for Rockhurst.' He is shooting 50 percent from the field, 46 percent from the three point arc and 87 percent from the free throw line, according to the Rockhurst Athletics Statistics.' However, Hill has had some difficulty turning the ball over as he has 48 times in 14 games this season.' His assist (51) to turnover ratio is 1.1, according to Rockhurst Athletics Statistics.' The Norse must turn up the defensive pressure on Hill to force him to turn the ball over.' Limiting his success on offense could help the Norse steal a tough road victory in Kansas City.
The Norse will have one more conference game in the state of Missouri before they return home.' They will travel to Springfield, Mo., to face Drury University (10-4, 3-1 in GLVC) at 2 p.m. on Jan. 17.' The Panthers are 8-0 at home in Weiser Gym this season.' Drury Head Coach Steve Hesser has a very young squad this season, a roster that lists seven freshmen.'
The Norse, with only four freshmen, will be more experienced coming into the game.' Drury has a well-balanced scoring attack with two players that average more than 10 ppg and three players that average nine a piece, according to Drury's Stat Crew System.' Senior forward Chris Ijames leads the Panthers in scoring at 14 ppg, shooting 41 percent from the floor.' NKU will have to be solid on the defensive end of the floor to disrupt any balance that Drury may have if the Norse want to leave Springfield with a victory.
The Norse will have three days to practice before they begin their road trip.' They will have to work on being fundamentally sound if they want to win on the road in conference play.
'We just have to continue to move forward on our fundamentals offensively and defensively,' Bezold said.' 'Some of the things we have to do are to be able to transfer that to the games.'