Suspect arrested in Callahan Hall shooting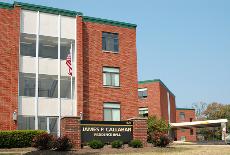 Police have issued an arrest warrant for an individual who, they say, fired a gun in Callahan hall Nov. 12.
(To read about University Police Chief Harold Todd's reaction to the Western Kentucky University own shooting incident and NKU's safety policy, click here)
Timothy A. Stone of Cincinnati, who is not a student, has had a warrant issued for his arrest. According to the Northern Kentucky University Web site, "University Police has sought the most serious charges possible."
At about 4 a.m., officers received a report of gunfire from Callahan Hall, an off-campus dormitory for Northern Kentucky University students, according to an e-mail sent to faculty, staff and students by NKU officials.
According to a statement from NKU, a woman and two men were inside a second floor dorm when the woman's former boyfriend entered the room and "became involved in a physical confrontation" with one of the other men.
"During this confrontation, a firearm was discharged in the room and a bullet exited through an exterior window," the report states. "A .25 caliber shell casing was found inside the room."
UP, along with Fort Thomas and Highland Heights Police, secured the scene via a floor to floor check, according to the statement.
After reviewing surveillance footage, which depicted "all individuals who had entered the building and were involved in the incident had vacated the building and driven away from the scene."
The report also states that those involved have been identified, but does not state who police believe fired the shot.
"I can assure you that the students in Callahan are safe," University Spokesman Chris Cole said. He refused to elaborate, saying that the investigation is ongoing.
Cole added that he can't reveal the details because police are still investigating.
Michael Farris, a resident of Callahan, said that he feels safe at the dorm.
"I feel completely safe," he said. "I don't feel threatened. The incident itself was shocking."
Cole confirmed that the Norse Alert system was not used in the aftermath.
"When police arrived at the scene, it was determined that it wasn't an imminent threat. A text, e-mail or phone call system probably wouldn't have been received at that time in the morning," Cole said. "Primarily because there wasn'tProxy-Connection: keep-alive Cache-Control: max-age=0
n imminent threat at the time."
Nevertheless, an e-mail was sent to students at around 9:30 a.m. The text was identical to what was on NKU's homepage.
Farris praised NKU's response, saying that "NKU's done a great job. Kelley Woods (his hall director) did a great job."
Residential Assistants were briefed this morning on the situation, and Callahan residents were given phone numbers to pass on to their families for more information.
This is the first shooting incident in NKU's history that Cole knows of.
Continue to check thenortherner.com for updates.