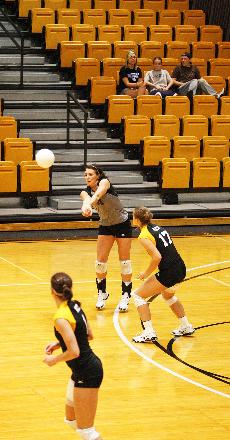 Tim Downer
The Northern Kentucky University Volleyball team heads into this weekends Great Lakes Valley Conference Tournament,with a momentous win over No. 22 Lewis University Nov. 8.
"It gives them (NKU) the 'we can' attitude since we took down the number one seed," said Lewis University Head Coach Lorlee Smith.
Led by seniors Natalie Forbes, 1,355 assists and Kristina Eisenmenger 423 kills, the Norse will be the No. 2(East) seed and (27-6 overall and 16-2 in the GLVC) will serve up against No. 3W Southern Indiana(16-4 overall, 9-8 in the GLVC) Nov. 14 at tournament host, Lewis University in Romeoville, Ill. The Norse won the regular season match with Southern Indiana.
"We have high expectations, we have a good program here at NKU and the girls are hungry to win," said NKU Head Coach Carlos Chia.
If the Norse defeat Southern Indiana, they will face the winner of No. 4E Bellarmine (8-17 overall and 8-10 GLVC) and No. 1W Missouri St-Louis (22-7 overall and 14-3 in the GLVC). These are both teams that the Norse defeated during the regular season. Winning the second game would lead to a rematch of Nov. 8 game versus Lewis, whom they lost to Sept. 13 in a regular season match-up.
Chia has high expectations for this hard-working team, but he also puts things into perspective.
"The tournament is one and out, anybody can win on any given night," Chia said.
Winning the tournament would give NKU it's first tournament championship since 2001, when NKU won its fifth championship in-a-row (1997-2002, according to the NKU Sports Information Web site). The win would also thwart Lewis from winning its third championship in a row.
Chia agrees, "It's been a long draught since last the last tournament championship."