Tailgating allowed for the UofL game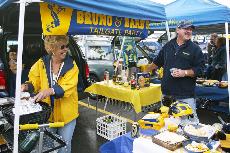 mctcampus.com
Attendees of the season-opening basketball games against the University of Louisville will be able to tailgate, including drinking alcohol, the dean of students announced at the Student Government Association's Nov. 3 meeting.
Dean of Students Jeff Waple told the Senate that the policy is still not approved as official policy, though he had been permitted to lay out the tailgating parameters, which includes prohibiting individuals to drink in Lots O and J, the two closest to the Bank of Kentucky Center.
Tailgating refers to attendees eating and drinking in parking lots before an event. Alcohol is usually consumed there.
Northern Kentucky University officially describes itself as a dry campus. However, expections exist for certain events that garner approval from Vice President of Administration and Finance Ken Ramey, according to Waple.
Waple also noted that the BOKC, thanks to lobbying by NKU, sells alcohol during events. Even at the Carrie Underwood concert, the first entertainment venue to be held there, Waple said that attendees tailgated.
The University examined other institutions' policies for tailgating, Waple said, and formulated the guidelines based on them.
He added, however, that University Police will patrol the parking lots and underage drinking as well as excessive amounts of alcohol will not be tolerated.
"Obviously you must be 21, no kegs or beer bongs," he said. Tailgaters must also contact Parking Services prior to tailgating.
Neither Waple nor his assistant Steve Meier said they knew if the policy would lead to a wet campus. Nor could they delineate the exact route to finalizing the policy.
Nevertheless, the parameters would affect every event at the BOKC.
Tailgaters will also be able to bring propane and charcoal grills as well as other equipment.
"Louisville's going to be bringing RVs," he said.
SGA also announced that it had received 22 Senate candidates and two Judicial Council candidates' packets.
"It's the most ever that signed up, in my tenure, in fall elections," Meier said.
Waple praised SGA's publicity efforts as the cause.