Winstel prepares for changes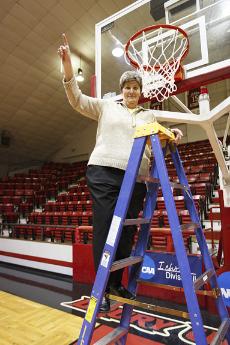 Tim Downer
Nancy Winstel sat on her couch and confessed that she is a little scared. Even the comforts of her newly furbished office at the Bank of Kentucky Center, decorated with plaques of past accomplishments, don't make Winstel reluctant to admit it.
"I'm stressing out," Winstel acknowledged about the upcoming 2008-09 season. Two exhibition games, one at the University of Cincinnati Nov. 1 and the other against Louisville Nov. 8, will test the Lady Norse early on.
"We're going to find out a lot about ourselves very early," Winstel said. After 26 years, more than 500 wins (a milestone reached in 2004) and two NCAA National Championships, Winstel seems to look at each new season as if it were her first. She takes everything in stride and never relies on a previous year's success to carry all the weight into the next.
"I think it's important not to forget what we have done," Winstel said. "But there is a fine line between cocky and confident. There is a price to success. You can either carry it as an anchor or a medal."
The balancing act of reveling in last year's success and building on it makes up just a part of what Winstel and her team must accomplish. Nevertheless, she approaches it with a tranquil aplomb.
"So many things go into this team," Winstel said. "Eventually, all the pieces will fall into place."
Such focus and coolness have helped her develop a winning team, but other attributes aid her efforts.
"She's extremely determined and passionate," senior post player Cassi Brannen said. "She's also really caring and will do anything for us. It doesn't even have to be about basketball, it can be a family issue or anything personal we have going on and she is there for us."
She may nurture her players off the court, but Brannen said nothing matches her intensity on the court.
"At first I was scared," Brannen admitted. "I kept wondering why she was yelling so much. But I understand why she's so intense and why she does it." Assistant coaches Danielle Zimmerman and Jeff Hans have both described Winstel as "demanding" yet "exciting." Along with Brannen, they also note her undying care for her team.
"She is very compassionate about her players and the program," Hans said. Zimmerman reaffirmed Winstel's passion for the Lady Norse.
"She absolutely loves being here everyday," Zimmerman said. "She has a great love for the game and her players." Winstel is preparing to spread the love and care again this year as the Lady Norse defend their national championship. But Winstel said she knows it won't come easy and stresses the ever-changing condition of a college basketball program.
"You never really have the same team two years in a row," she said. "This year's team is in a learning phase. But they are growing and they want to get better." It is hard for Winstel to say too much about this year's team, who has only been practicing for a little over a week and has six new players.
"Last year's team had an identity," Winstel noted. "This team hasn't found that identity yet but the want is there. They are very good at the want to and their coming along on the how to. But in addition to having talent, I think you have to have a little luck too."
Perhaps the most recent example of the luck that Winstel speaks of comes in the form of a sweater.
"I got a little superstitious when we got into the tournament," Winstel said over a couple of chuckles. "I may bring it back out again this year, but who knows." Winstel admitted she can't control luck, as well as other variables.
"We don't have control over some things, but we have to deal with it. It's what we as coaches do. We sweat the details." Not only does Winstel and company have to prepare for another big season, they also have to do it in new and much larger surroundings. This year, the Lady Norse say goodbye to Regents Hall and say hello to the Bank of Kentucky Center.
"Regents has been our home for a long time," Winstel proclaimed as she looked out the window to where Regents sits. "It has been a staple of the team for years." Even though Winstel is still learning to let go of her former stomping grounds, she looks forward to the new court that she and her team will call home.
"We're not overwhelmed as much as we are excited about playing here," Winstel said. "You want your home court to be yours. It's an adjustment we will have to make."
With all that Winstel has on her plate this season, two huge exhibition games, six new players, a new court to call home and a defense of the Division II NCAA National Championship, she has brought attention to something more important that what the team record will be at the end of the season.
"Winning is not the only thing we're about," Winstel announced. "It's only part of what we're about." Winstel stressed what has to complement the desire to win.
"Be the best person you can be, the best student you can be. My goal is to coach a team to be the best they can be. And if they are doing that then that's good enough," she said
Winstel paused for a second, leaned forward a little and, with a smirk, added, "And personally, I'd like to win em' all."