Holmes falls short of Woman of the Year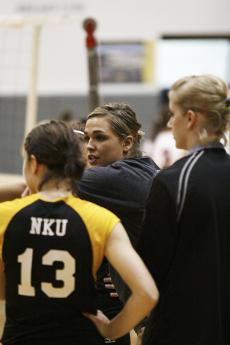 Tom Miller
First-year Assistant Volleyball Coach, Liz Holmes, just missed becoming one of nine finalists for the 2008 NCAA Woman of the Year.
Holmes, a former stand-out volleyball player at NKU, was a top-30 nominee for the elite award but was not chosen by the NCAA Committee on Woman's Athletics as one of the final nine nominees.
Although Holmes won't establish herself as this year's NCAA Woman of the Year, she has seemed to have earned the trust of NKU volleyball head coach Carlos Chia.
Considering her credentials, Chia, a former member of the Peruvian National Volleyball Team, may have plenty of reason for the faith in his new assistant coach.
Holmes, a four-year-starter and three-year-team-captain of the Norse volleyball squad, is a former player of Chia and is regarded by many as one of the greatest volleyball players in NKU history.
The 2004 graduate of Mother of Mercy High School, in Cincinnati, and Great Lakes Valley Conference Freshman of the Year played in all-but-one of the Norse's 132 total matches from 2004 – 2007.
The volleyball team posted an overall record of 94-38 during Holmes' tenure.
She ended her playing career after the 2007 season – when her NCAA eligibility expired – leading the Norse to a 26-9 overall and a NCAA Division II tournament berth, while becoming the only three-time All-American volleyball player NKU has ever seen.
She was honored several times that same year, receiving the GLVC 2007- 08 Woman of the Year, Great Lakes Region Player of the Year, GLVC Player of the Year, and GLVC Scholar-Athlete of the year.
Holmes was also named to the American Volleyball Coaches Association and Daktronics All-American first teams and awarded the Margery Rouse Athlete of Distinction Award at NKU.
All the while, maintaining a 3.79 GPA – as a social studies and secondary education major – and served as a four-time member of the GLVC All-Academic squad.
She earned her place in a couple NKU record books as well.
Holmes is NKU's current all-time leader in kills, with 1,850, and recorded nearly 25 percent of NKU's total kills during her four-year tenure.
She also finished her playing career as a Norse as second in block assists, sixth in solo blocks, seventh in digs and tenth in categories.
With a legacy in place at NKU and no remaining NCAA eligibility to play volleyball, Holmes made the transition to being an assistant coach of the team.
Holmes said that although it initially felt unusual to being on the volleyball court for reasons other than playing, she is enjoying her new role as one of team's coaches.
"At first it felt weird not being able to actually play volleyball," she said. "But I just like being around the sport, and I've been really happy being able to help the team."
As an assistant coach, Holmes has helped Chia and the current Norse squad to a 23-6 overall record (12-2 GLVC), with two of those loses coming on the road, in Florida, from a pair of teams ranked top-10 nationally at the time – No. 7 Tampa and No. 9 Florida Southern – and within the first three games of the season.
The Norse have won 22 of the 26 matches since their trip to Florida and have been undefeated at home this season.
NKU has four regular season matches remaining, all at home.
The Norse will conclude their regular season, against the only non-Florida school to beat them this year and the only GLVC team with a higher national ranking – Lewis – on Nov. 8 at 2 p.m.