Hockey sweeps past Louisville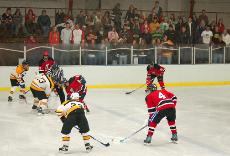 Nancy Bhola
The Norse Hockey Club opened its season with two victories in as many days by sweeping the University of Louisville Hockey Club, defeating the Cardinals by a score of 15-1 Oct. 11 and then 11-7 Oct 12.
In the first meeting of the two-game series, the Norse showcased their offensive explosiveness, routing the visiting Cardinals by 14 at the Northern Kentucky Ice Center in Crescent Springs, Ky.
Seven Norse players found the goal in the blowout victories led by Kyle Devlin, who had seven points in the game, scoring five goals and recording two assists. Karl Mueller also contributed seven points for the Norse, scoring four goals with three assists.
Andrew Gustafson scored twice in the game, and Cory Bradley, Nick Koch, Nick Williams, and Jeremy Emig all scored one goal each.
According to Williams, the president of the hockey club and captain of the team, the win came as a pleasant surprise.
"The season looked much better [after the win] than we expected when we first began getting everything together this year," he said.
He added, however, that much of the team's success can also be attributed to the home audience of about 130.
"A good sized crowd really helps the intensity of the game," Williams said. "That's what the home ice advantage is all about."
The next day, the Norse traveled to Louisville to once again face the Cardinal club team at the Iceland Sports Complex.
The outcome: smaller margin, same result.
For the second consecutive night, NKU defeated Louisville and for the second consecutive night Devlin provided a standout performance for the Norse.
The second year player scored five goals for the second consecutive game and is quickly earning the respect of his teammates.
"He's a machine," Emig said of Devlin. "He's pretty much the backbone of the team."
Williams, who made his contribution to NKU's Oct. 12 victory with four goals, was equally enthusiastic about the consistency of Devlin.
"He's just an all-around player," he said. "He's able to just play both ends of the ice great."
According to Williams, although the team is beginning the season with a 2-0 record, the team still has much work to do and will only get better as the season continues.
"We still need some work but I feel good," he said. "We have a good group of players, especially considering the lack of players who came out for tryouts, and we're expecting a couple more key additions during the spring semester."
The Norse will next play IUPFW at The Northern Kentucky Ice Center on Oct. 31; the start time of the game is yet to be determined.
Game information provided by Nick Williams.