Harris' running by leaps and bounds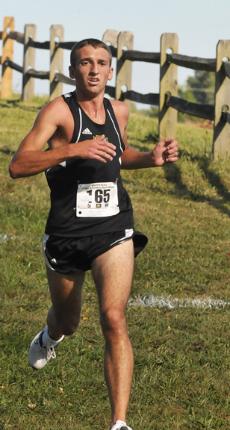 Jeff McCurry
Sophomore Cross Country runner Drew Harris isn't completely satisfied with his success this season.
Although Harris has run his way into the Northern Kentucky University Top-25 all-time list in the 8K race three times this season, the 19-year-old Alexandria, Ky., native says he still feels that he has room for improvement.
"I don't necessarily feel I'm at the top," he said. "I'm on my way to the top, I'm going upward."
Harris is currently the owner of both the second and third fastest mens 8K race times in NKU history, with both record times coming in races this season.
He completed the 8K run Sept. 27 at the Sean Earl Lakefront Invitational, in Chicago, in a then-career-best time of 25:17.
Then, exactly one week later, he ran another 8K race in 30 fewer seconds, recording a time of 24:47 Oct. 4 at the Greater Louisville Classic, in Louisville, Ky.
Cross Country Coach Steve Kruse said, "He's goal oriented and with each goal he completes he doesn't just sit on that and say, 'Oh, OK, I've met my goal, I'm happy.' He resets that goal and puts the bar up to the next level."
That includes the standards for Norse leaders.
"For a sophomore, Drew has the leadership of a senior, no question about it," Kruse said.
"He's very mature for his age; he's a very focused individual. That's why he's not only successful in his running and athletic pursuits, but also academically. He's one of our top student-athletes."
Harris' leads by example with an unrelenting training schedule, Kruse said.
"He does all the right things. He's a very hard worker," Kruse said. "He did what was necessary in the summer, he put the miles in and he did not let up. The other guys on the team are seeing that and maybe some . . . who didn't train as hard as they should have are seeing the (recognition) he is getting. We have guys on the team who are just as talented as Drew, but perhaps they didn't work as hard in the offseason and aren't seeing the success that Drew has."
Harris said his being mentally prepared for a race factors into his success.
"You have to be confident in yourself and what you've done," he said.
Nevertheless, Harris said he has no secret formula for his achievements. His training regime consists of just running "a lot of miles," Harris said.
"I'm not on a strict diet," he said. "I try to eat right, as much as possible, but I'm in college, so that makes it really hard."
After his Northern Kentucky University career ends, Harris plans to attend law school.
He said he will continue to run competitively, in some form, once he is no longer a member of NKU's squad.