Norse lays it on St. Joseph's 10-0
Hang on for a minute...we're trying to find some more stories you might like.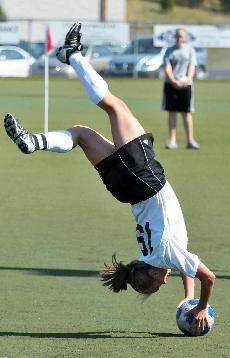 Jeff McCurry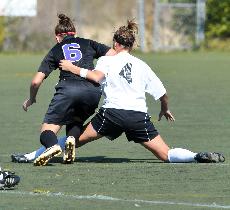 Jeff McCurry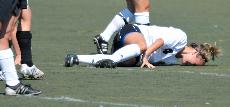 Jeff McCurry
Scoring wasn't an issue for the Northern Kentucky University's Women's Soccer team Oct. 5, as NKU (8-2, 4-2 in the Great Lakes Valley Conference) routed Saint Jospeh's College (1-10, 0-6 in the GLVC) by a score of 10-0.
A freak accident occurred in the second half as NKU freshman forward Amanda Mason was injured going for the ball.
"We (St. Joseph's senior forward Ashley VanSlooten) were both going for the ball," Mason said. "I went down for the ball doing the splits and she landed on my leg."
Mason isn't sure what kind of injury she suffered.
"I am going to see the doctor on Oct. 8," she said.
Eight different NKU players scored goals, and the Norse outshot the Pumas by a 35-1 margin in the 10-point victory, which according to the NKU sports information web site, marked the highest scoring game for the Norse since Sept. 9, 2001.
NKU scored only one of its 10 goals in the first half, leaving Head Coach Bob Sheehan "really disappoined with the first half (of the game)."
However, Sheehan's uneasiness wouldn't last long into the game's second half, as the Norse returned to the field – and within two minutes – posted the first of nine second-half goals.
"We had 15 shots on net, and only one goal." Sheehan said of the game's first half. "We talked about it at halftime and came back to score nine goals."
Ashley Warndorf initiated the Norse's second half rally, scoring her second goal of the season in the 47th minute of the match, off an assist from Brandi Doss.
Saint Joseph's, whose single shot came in the first half, spent most of the game defending its goal and didn't have a shot on goal in the second half.
Saint Joseph's goal keeper, Sarah Croskrey, stopped all but one of the 15 shots she faced in the first half, but was pulled after the fourth Norse goal in the second.
"She's an excellent keeper, but we can't give up that many goals," Scott House, Saint Joseph's head coach, said of Croskrey. "We have to make a change at some point; we've lost a lot of games this year, by a lot of goals."
Sheehan regarded the victory as a "good team effort."
"All the players played today; they all played hard" he said. "It was a team win today."
Angela Healy, the starting goalkeeper for the Norse, played 75 minutes of the match and recorded zero saves on zero goal attempts, before being pulled replaced by freshman Stephanie Glass.
House was speechless after his teams 10-point loss.
"I don't know what to say … it was 1-0 at half time," he said. "They're a good team and they really took it to us; we held on in the first half, and then let in nine the second half."
The Norse will face Missouti-St. Louis at 7:30 p.m. Oct. 10 at Town ' Country Sports Complex. NKU will also host Southern Indiana at noon Oct. 11.