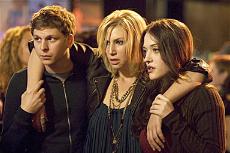 Associated Press
In the '80s we had John Hughes to thank for the greatness that is movies like "Sixteen Candles" and "The Breakfast Club." The 90's gave us the cult classic "Dazed and Confused." Now in the iPpod age we have "Nick and Norah's Infinite Playlist."
Out in theaters, "Nick and Norah's Infinite Playlist" is the story of two teens trying to find love in one crazy fun-filled night in New York City. The movie is based off the similarly titled book co-authored by Rachel Cohn and David Levithan.
Nick, played by Michael Cera ("Juno"), has recently been dumped by Tris, Alexis Dziena ("Fools Gold"), who was the end all be all of relationships for him. Norah, played by Kat Dennings ("The House Bunny"), is the supposed friend of the queen bee of the catholic girls school: Tris. Norah is in love with Nick from the get go, only she doesn't know Nick is Nick. To her, Nick is just the sad boy whose mix cds Tris keeps dumping in the trash. Norah valiantly rescues them in the name of good music and cover art. Throw in a queercore (read: gay punk hardcore) band "The Jerkoffs" and this adventure is ready to get started.
Much like a night of bar hopping with good friends only to end up at Denny's for some 4 a.m. steak and eggs, this movie is filled with highs and lows. The opening phone message from Nick to Tris is downright hilarious. The gross-out humor midway through the film and turned later into a running joke is enough to make you gag. Thankfully the film detours from the rampant use of explicit language of the novel and trades the punk scene for a more indie music flavor.
No one is going to win an Oscar for this film. Neither is it going to hit the cult status of "Dazed and Confused." The film is formulaic to a T; there is no doubt that by the end of the night the boy and girl are going to get together. And yes, even though every character is club hopping between destinations throughout the vast New York City they magically and coincidently always end up at the same locale.
It's not about the final destination though; instead what is important is the journey. In that, the film is completely enjoyable. If nothing else, the homage to Tawny Kitaen and the Whitesnake video this time on the hood of a Yugo is worth it.
"Nick and Norah's Infinite Playlist" is rated PG-13 for mature thematic material including teen drinking, sexuality, language and crude behavior. Running time is 90 minutes.